About
The Women and Water Lecture Series, hosted by the Global Institute for Water Security, Global Water Futures - Young Professionals and Global Water Futures, will occur monthly from January to April. The series will showcase research, support young professionals and provide a space for dialogue and networking. Additionally, the series will explore water-related challenges, roles of women in water, gendered water-related impacts, women researchers in water, and challenges and opportunities facing female water researchers.
2021 Schedule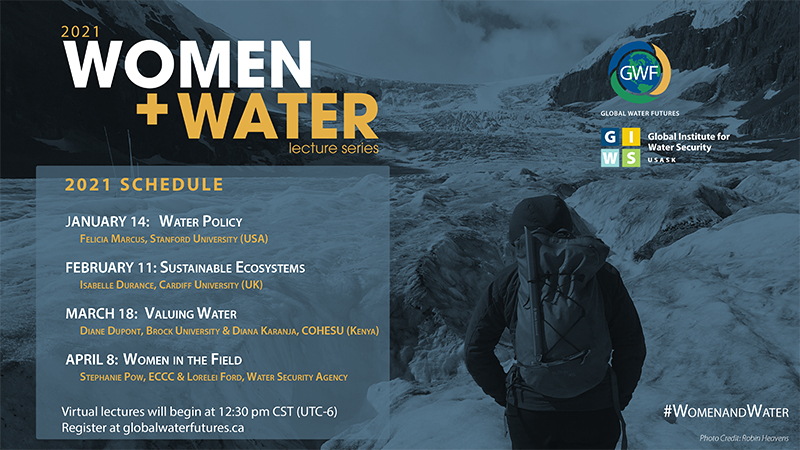 January 14
Water Policy
 Ft. Felicia Marcus, Stanford University
February 11
Sustainable Ecosystems
Fr. Isabelle Durance, Cardiff University
March 18
Valuing Water
Ft. Diane Dupont, Brock University
& Diana Karanja, COHESU
April 8
Women in the Field
Ft. Stephanie Pow, ECCC
& Lorelei Ford, Water Security Agency
All lectures begin at 12:30pm CST (UTC -6).
All lectures will be available for joining virtually! Details for registering will be available soon.
Past Lecture Series
Women and Water Playlist: December 2018 - April 2019
Women in Water: A Goal of Roles, Responsibilities, and Opportunities
Climate Change and Society, featuring:

Dr. Maureen Reed, Reseaercher, University of Saskatchewan
Dr. David Natcher, Researcher, University of Saskatchewan
Maria Mora, PhD Candidate

Ecosystem Services, featuring:

Dr. Heidi Swanson, Assistant Professor, University of Waterloo
Dr. Michelle Johnson-Jennings, Associate Professor, University of Saskatchewan
Dr. Patrick Lloyd-Smith, Assistant Professor, University of Saskatchewan

Knowledge Mobilization, featuring:

Kathryn Warden, Director of Research and Profile, University of Saskatchewan
Stephanie Merrill, Knowledge Mobilization Specialist, University of Saskatchewan
Holly Annand, PhD Candidate

Snow and Ice, featuring:

Dr. Gwenn Flowers, Glaciologist, Simon Fraser University
Caroline Aubry-Wake, PhD Candidate