General Information
The primary purpose of the Global Water Futures inaugural Annual Science Meeting is to provide an opportunity for all GWF researchers and affiliated highly qualified personnel to gather and share their scientific findings and other relevant activities and outcomes with GWF community and users/stakeholders. In addition, the following activities and outcomes are envisioned:
The inaugural meeting will provide a broad perspective of the GWF program in its entirety, to stimulate discussions and interactions amongst the individual researchers and various teams, leading to new cross-cut activities, and to showcase and celebrate the scientific advancements coming forth from the GWF program.
Workshops for GWF community to enhance understanding of Indigenous Communities engagement and history, and best practices for knowledge mobilization to users/stakeholders.
An opportunity to learn about GWF international engagement, and how individual projects could engage in support of GWF's international agenda.
An opportunity for the Young Professionals group to come together and organize professional development activities to aid in their career advancement and social events to enhance comradery among peers. This will include activities such as workshops, presentations and scientific poster sessions.
Please contact us at gwf.secretariat@usask.ca with any questions.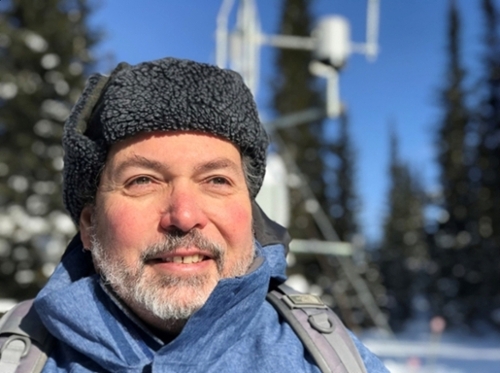 Dear colleagues, collaborators, and friends, 

It is my great pleasure to invite you to the Global Water Futures Inaugural Science Meeting 2018, hosted by McMaster University and the Six Nations of the Grand River and taking place in Hamilton and Ohsweken, Ontario, June 3- 6. 

McMaster University recognizes and acknowledges that it is located on the traditional territories of the Mississauga and Haudenosaunee nations, and within the lands protected by the "Dish With One Spoon" wampum agreement. The Haudenosaunne have agreed to host GWF offering their facilities both on and off campus.

For the first time, researchers, students, technicians and administrative staff from the 33 projects and six core teams of GWF will gather together to discuss our latest research findings, plans, and outcomes with our partners and collaborators in the GWF community.

The inaugural meeting will provide a broad review of progress in the entire GWF program to stimulate discussions and interactions amongst individual researchers, students, research teams and user groups. This review will focus on regional initiatives, international initiatives, knowledge mobilization, indigenous community water issues and on advances in water modelling and prediction. At the meeting, we will also examine critical themes that are important across GWF, such as observations and sensors, human-water interactions, watershed management and disturbance, aquatic environments, climate change and extremes. There will also be a lively poster sessions with refreshments. This will be an opportunity to showcase and celebrate the remarkable scientific advancements already coming forth from GWF.

A special poster session, inaugural banquet, and knowledge exchange events will take place on the territory of the Six Nations of the Grand River in Ohsweken where we will explore ways that GWF can engage with Indigenous researchers and leaders on water issues.  

The GWF Young Professionals group will be organizing professional and social events. And there will be a knowledge mobilization workshop to hone our skills at making information relevant and usable for our partners.
More information will become available on this website as planning progresses, with a draft of the agenda to be available shortly.  
Registration and abstract submission is now open for everyone affiliated with one of the 33 GWF projects, core teams, and/or affiliated universities, as well as GWF partners and stakeholders. 
I look forward to seeing you in Hamilton and Ohsweken.  

Yours truly, 



John Pomeroy 
GWF Director
Registration
Register for this event and submit abstracts through our online system.
Registration and abstract submission deadline has been extended to May 14.
Agenda & Presenter Information
Those giving oral presentations have 12 minutes to present and 3 minutes to answer questions. Your presentation should be either a PowerPoint file or a PDF and have an aspect ratio of 16:9 or 4:3. Clickers and laser pointers will be provided for use during your presentation. 
Presenters must upload their presentations to the computer in the appropriate session room during the break just prior to your presentation, at the absolute latest.  Please refer to the ASM agenda to identify the room your session is held in. If possible please try to have your presentations loaded at least 1/2 day earlier than your presentation time (i.e. if you present Tuesday afternoon, please try to have your presentation loaded Tuesday morning). Your cooperation on this matter will ensure that the sessions will run smoothly and uninterrupted.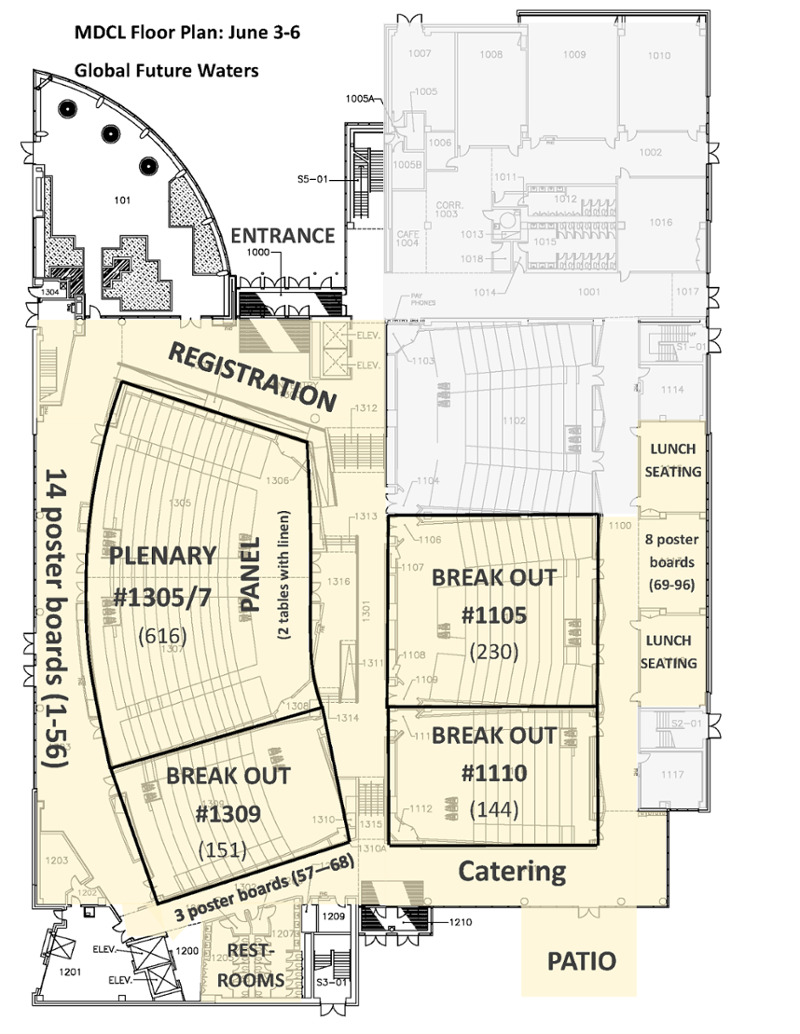 Poster Creation Guidelines
Please ensure your posters are no larger than 4'x4'. 
The presentation must cover the material as cited in the corresponding submitted abstract.
Place the title of your paper and the author's names prominently at the top of the poster board to allow viewers to identify your presentation.
Highlight the author's names, e-mails, and address information in case the viewer is interested in contacting you for more information.
Prepare all diagrams or charts neatly and legibly in a size sufficient to be read at a distance of 3 feet. Paragraph and figure caption text should be AT LEAST 24-point font and headers AT LEAST 36 point font.
Organize the paper on the board so it is clear, orderly and self-explanatory.
Include the background of your research followed by results and conclusions. A successful poster presentation depends on how well you convey information to an interested audience.
Setting Up Your Poster
Location: please refer to map of MDCL for poster number locations
Set Up: morning of Monday, June 4
Take Down: afternoon of Wednesday, June 6
You will be required to set up your own poster at your assigned location for the duration listed above. 
Poster Viewing
Attendees are invited to look at posters during morning and afternoon refreshment breaks on Tuesday, June 5th and Wednesday, June 6th. There is a dedicated poster viewing reception on Tuesday, June 5th, so please be sure to be at your poster at that time. 
For those of you participating in the GWF Young Professionals presentation competition, please be sure to be at your poster during both refreshment breaks as well as the poster reception on Tuesday, June 5th in order to be judged. 
Poster Numbers & Locations
Posters are organized by session in the pdf file below. Please take a look at the file and refer to the map above to find out where you will be hanging your poster. 
The 
GWF Young Professionals
 are hosting an oral & poster competition for all students and postdoctoral fellows. To enter this competition, simply submit an abstract for an oral/poster presentation during registration. The organizers will ensure that the presenter is a student or postdoctoral fellow.
Note

: If you have already registered for the GWF ASM, you can still submit an abstract or modify an existing one by sending it to

gwf.secretariat@usask.ca by May 14.
Judging
Judging for oral presentations will take place during the allotted presentation time.
Judging for poster presentations will take place on Tuesday, June 5 during the refreshment breaks (10:15-10:45 am & 3:45-4:15 pm) and during the poster session from 5:00-6:00 pm. YOU MUST BE PRESENT AT YOUR POSTER IN ORDER TO BE JUDGED! 
JUDGES NEEDED: if you are interested in being a judge for this competition, please contact Nadine Shatilla (n.j.shatilla@gmail.com)
Prizes
The competitors will be divided into two categories: Students (MSc & PhD) and Postdoctoral Fellows. The top two presenters from each category will be awarded the following:
First Place: $500
Second Place: $250
Location, Lodging & Other Important Information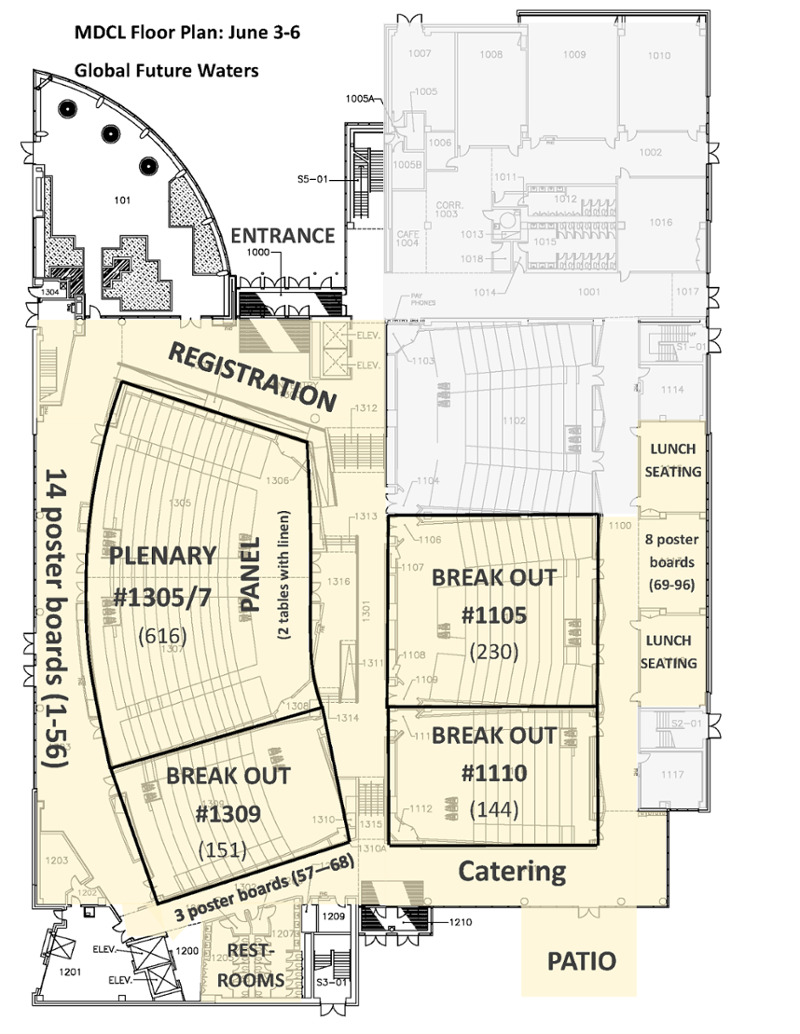 The Conference
The GWF Inaugural 2018 Annual Science Meeting takes place at the Michael DeGroote Centre for Learning (MDCL), McMaster University with an afternoon trip to Six Nations of the Grand River (transportation provided - see "Visit to Six Nations" tab). Please refer to the campus map for direction on how to get to MDCL.
Registration Table      
The registration table will be open for the duration of the meeting and will be located at the entrance into MDCL. 
Sunday: 2:00 pm - 5:00 pm
Monday: 8:00 am - 12:00 pm
Tuesday: 8:00 am - 6:00 pm 
Wednesday: 8:00 am - 5:00 pm 
Food & Refreshments
All food and refreshments will be provided at MDCL. This event will be free of bottled water, so please make sure to bring a reusable water bottle for the duration of the conference!
A light continental breakfast will be provided each morning before conference events commence.
Lunch will be provided all days (for all attendees);
A banquet will be held at Six Nations on June 4th (all attendees); and
Grab some colleagues and enjoy one of Hamilton's hidden gems for dinners on June 3rd,  5th and 6th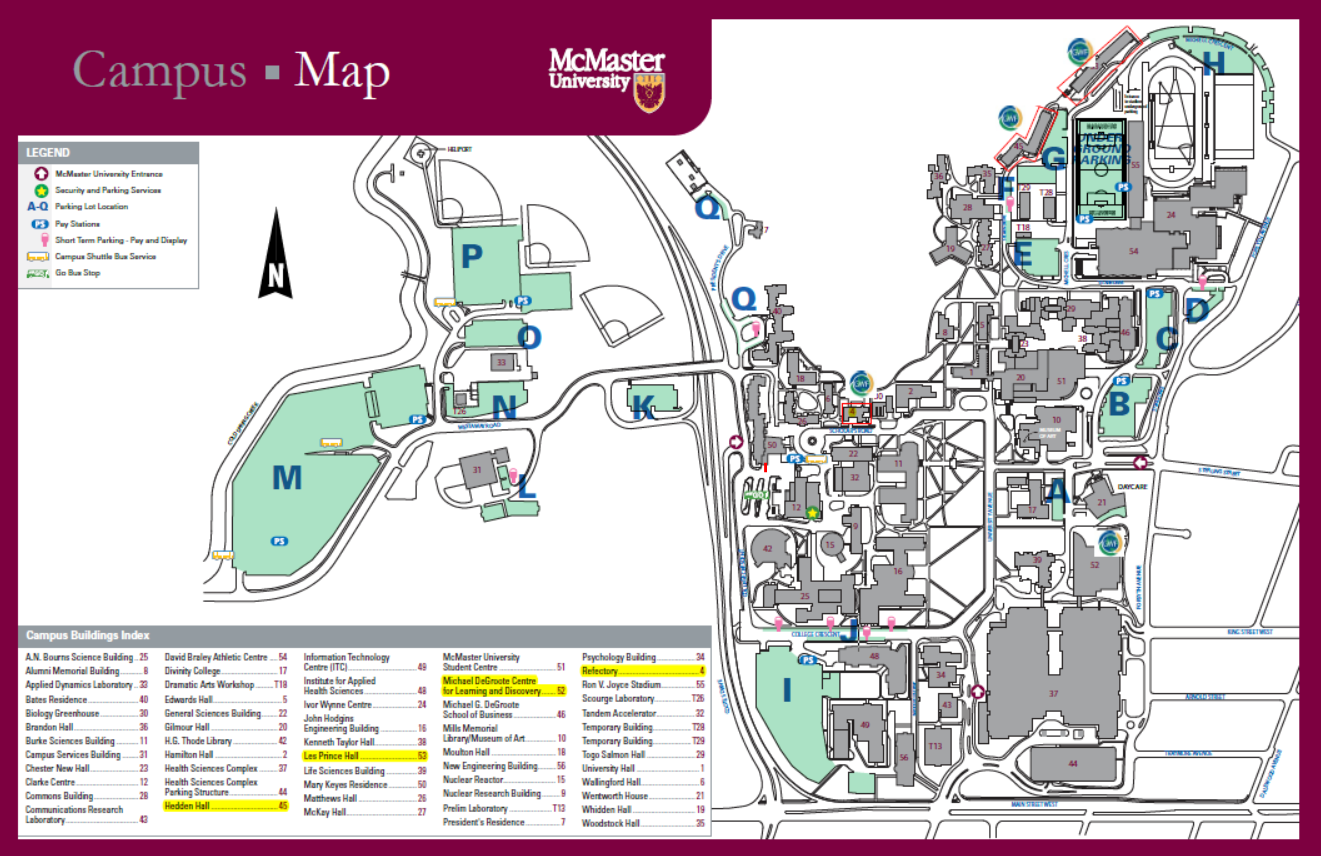 Visit to Six Nations of the Grand River, Ohsweken - Monday, June 4
As part of the conference program, all conference participants are invited to visit Six Nations of the Grand River, Ohsweken for the afternoon of Monday, June 4. Transportation will be provided for all conference participants from McMaster University leaving at 12:00 pm and returning at ~9:00 pm. We highly encourage everyone to take the transportation provided.
Land-Based Knowledge Exchange Session 
Part of the visit to Six Nations will include engagement between Indigenous and GWF researchers through land-based activities. Please take a moment to sign up for your preferred activity on the GWF Activity Sign-up webpage. Make sure to wear appropriate clothing for your chosen activity as many of them take place outdoors (note there is no time to change prior to the bus departure at 12:00 pm)!
All attendees will meet at The Gathering Place on the Grand (2593 Chiefswood Road, Ohsweken):  
Getting to Hamilton, ON
Hamilton is located 61 km/38 miles south-west of Toronto in Ontario, Canada. Conference attendees can fly into either the Hamilton International Airport (YHM) or Toronto Pearson International Airport (YYZ). If you are flying into Toronto, you can drive or take a shuttle to Hamilton which is about 1 hour away. 
To and From Toronto Pearson Airport to Hamilton, ON
There are several options to get you from Toronto Pearson International Airport (YYZ) to Hamilton.
Shuttles
There are multiple shuttle and bus services that can take you from the Toronto Airport to Hamilton. Look for the option that works best for you here: https://www.torontopearson.com/en/toandfrom/outoftown/# 
GO Transit
GO Transit is the regional public transit service for the Greater Toronto and Hamilton Area. Travel from Toronto Pearson International Airport to McMaster University costs approximately $11.95 CAD and takes 1 hour 20 minutes. Note that you must purchase your tickets beforehand or at the airport (tickets cannot be paid for on the bus) and the GO bus pick up/drop off is located at Terminal 1 (those arriving in Terminal 3 will have to adjust accordingly).

To plan your trip, go to the Go Transit website: https://www.gotransit.com/en/trip-planning/plan-your-trip (enter Pearson International Airport as starting location and McMaster University as end location)
Note: you can choose options that either drop you off at Main St. & Paisley (~15 min walk to campus), GO Station downtown (cab ride to campus) or transfer to another bus that arrives on campus
Taxis
The flat rate from the Toronto Airport to Hamilton is $101-$111 CAD. For more information, visit the website here: https://www.torontopearson.com/en/toandfrom/taxilimo/# 
Rental Cars
You can also rent a car to get to Hamilton. The driving time is about 1 hour.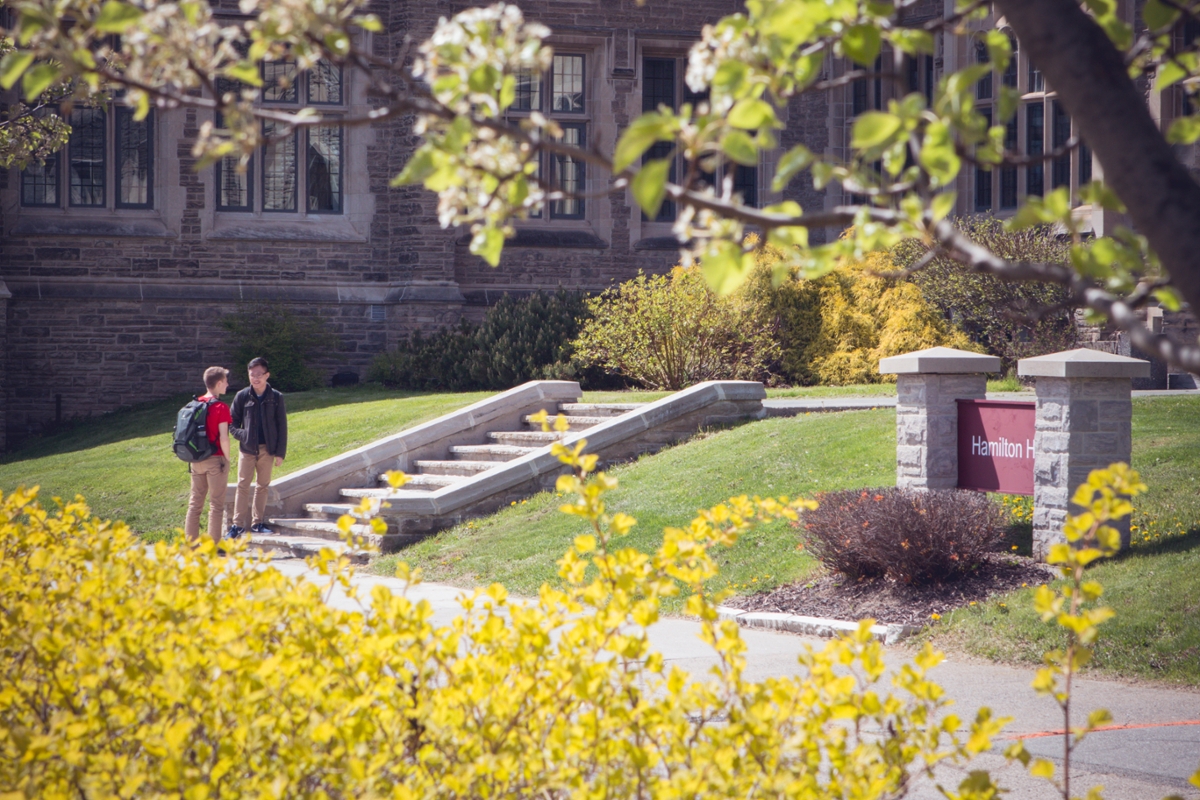 Accommodations
Accommodations are available in the Les Prince and Hedden Hall residences at McMaster University and can be reserved when registering (refer to map below). 
Find out more information about the McMaster Residences 
Checking In/Out
June 3-7:
Check-In:
4:00 - 6:00 pm
Check-Out:
 8:00 - 10:00 am
To check in and out of residence, please proceed to the residence to which you have been assigned (please refer to email sent by gwf.secretariat@usask.ca on May 28).  Refer to the map below to find your residence location. 
If you arrive outside of these dates/hours:
Check-in with Conference Services in the Woodstock Service Centre just a short walk from your hall (building #35 on map below). 
Conference Services will do their best to accomodate early arrivals, but rooms cannot be guaranteed until 4:00 pm. 
A storage room will be available in each hall to hold luggage if needed at check-in and/or check-out
Please note that your room will include full bed linens, face cloth & body towel, shampoo, conditioner and small bar of soap. Housing Assistants at the Woodstock Service Centre (open 24/7) can assist you with room lockouts, additional towels etc., residence information, and other inquiries.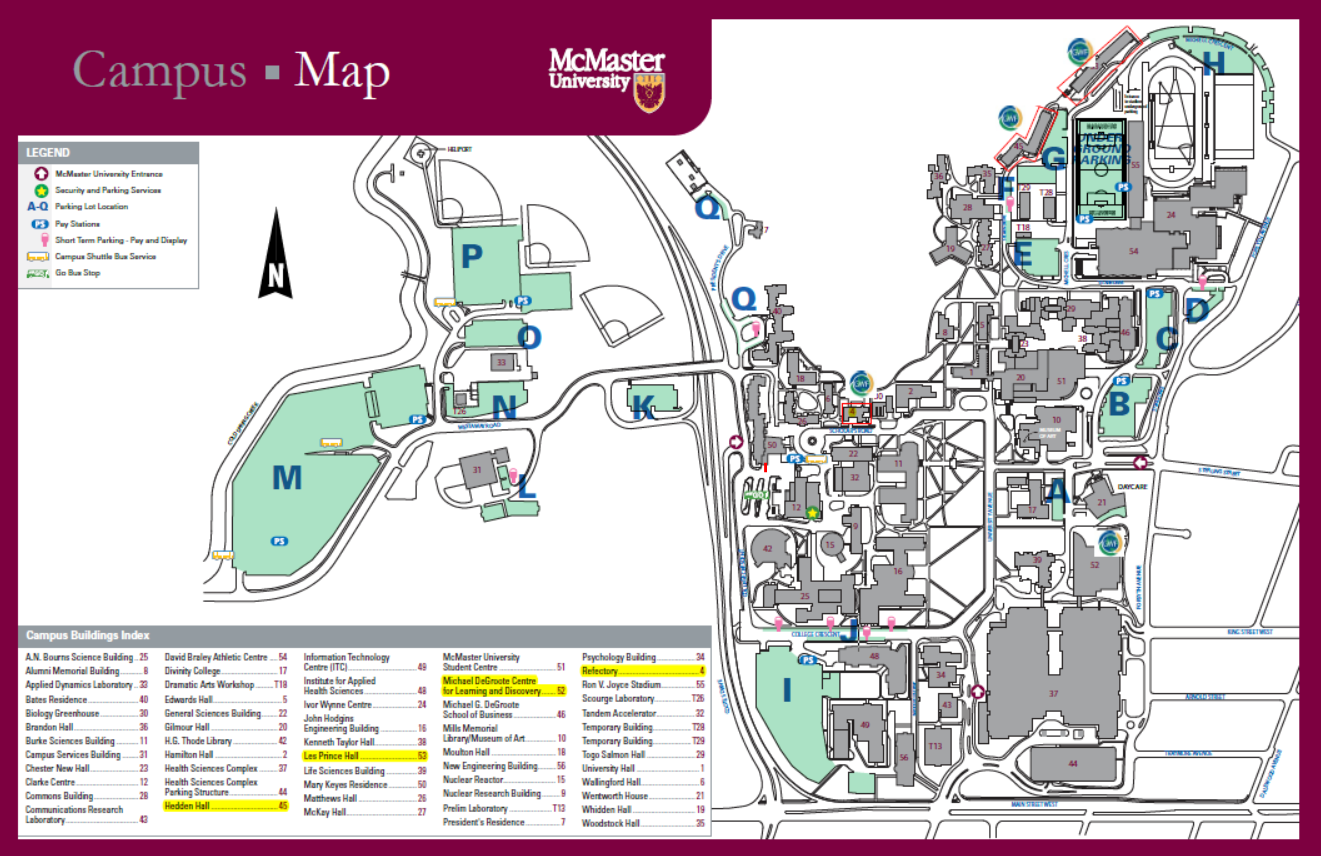 For information regarding McMaster University and surrounding area, make sure to read through the Mac "Pre-Arrival" Guide. Here you should find information on residence/accommodations, how to get to McMaster University, things to do on campus and in Hamilton, etc.
Arrival at the conference
Please use the Sterling St. entrance to enter McMaster University. 
If you are staying on campus, take your first right when you enter campus and stay the in the right lane to follow the signs to find Les Prince or Hedden Hall and park in G or H lot (see map).
If you are not staying on campus, take your first right when you enter campus and stay in the left lane to park in lots B or C (see map).
NOTE:  When you park, take a ticket from the machine.  You will be given a parking pass at the registration desk when you arrive to the meeting or to the Residence Service Desk depending on your scheduled arrival.  You will then use the provided pass to exit and re-enter as desired.  *Please bring the parking pass that you get from the machine with you to the registration desk*
Internet
Internet access will be provided to all registrants. A personalized MacID will be included in your registration package upon arrival that will allow you to access the McMaster network for the duration of the conference. For those staying in residence, internet login information will be provided to you at check-in. 
Travel Support
Travel support of up to $500 per person is available to all participants traveling from a distance greater than 500 km. Please ensure you apply for this support during the online registration process. In addition, a promotion code has been set up with Air Canada to obtain a discount on flights to the conference. This code can be found in emails sent by the GWF Secretariat; alternatively, email gwf.secretariat@usask.ca to request the code.
If you applied for travel support:
Up to $500 per person is available for each member that requested travel support during the registration process (this includes meals, flights and/or kilometers). The process for reimbursement of travel costs is to email your receipts to gwf.secretariat@usask.ca, after the meeting. When submitting a claim for kilometers, or meals not provided by GWF, the following rates will be used:
Breakfast         $11
Lunch              $16
Dinner             $24
Kilometers       $0.4283/km
Note that accommodations and most food during the event are provided free of charge. 
GWF Young Professional Events
The GWF Young Professionals in coordination with the Canadian Young Hydrologic Society (CYHS) are planning many great professional development and social events throughout the GWF Annual Science Meeting!
Please take the time to register for each individual event through the Eventbrite link to ensure there is enough space, food and refreshments:

When: June 3, 3:00-5:00 pm
Where: Michael DeGroote Centre for Learning (MDCL 1110), McMaster University
Details: Dr. Jeff McDonnell (University of Saskatchewan) will give advice on navigating grad school/career paths, the importance of student groups and collaborations, and tips on writing and publishing. Make sure to arrange your travel plans so you arrive in time for this workshop! Snacks and refreshments will be provided.
Registration Required? Yes
When: June 3, 5:30-11:00 pm
Where: The Phoenix Bar & Grill, McMaster University & Altitude Compound, McMaster University
Details: Following the Professional Development Workshop, you are invited to join other YPs at The Phoenix Bar and Grill, from 5:30-8:00pm. GWF-YP Chapter Chairs will introduce themselves. Appetizers will be provided with additional food and drinks available for purchase. Following the social networking event, we have arranged a bonfire from 8:00 - 11:00pm. This will be held on campus at the McMaster Altitude Compound.
Registration Required? Yes
When: June 5, 6:30-11:00 pm
Where: Michael DeGroote Centre for Learning (MDCL 1110) & Fairweather Brewing Company (5 Ofield Road, Unit #1)

Details: Dr. John Pomeroy will highlight the role of the Young Professionals Program within the larger GWF context at 6:30pm in MDCL 1110. Pizza and non-alcoholic beverages will be served. Following Dr. Pomeroy's talk at 7:30pm, we will be gathering at Fairweather Brewing Company, located ~1km from McMaster's campus (15 minute walk), for a YP social. Come out to network with other GWF-YPs and enjoy a local Hamilton favourite!
Registration Required? 
John Pomeroy Talk & Pizza: No
Fairweather Brewing Company gathering: Yes