Learn ways to ensure your project makes a lasting impression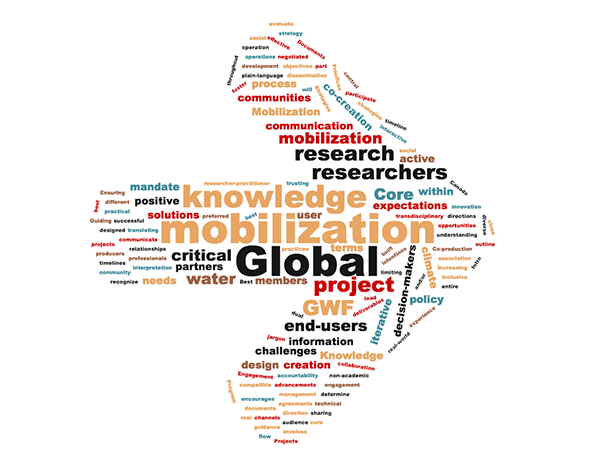 Knowledge Mobilization (KM) comes in all shapes and mixes, from briefing notes to workshops; community engagement to co-creation of research questions. Learn how through the KM Webinar Series. Continuing September 2019, the KM Webinar Series will cover a variety of topics to help you harness the power of KM to ensure your project makes a lasting impression.
Knowledge Mobilization Webinar Series
The KM Core Team annual webinar series aims to increase awareness about the value and principles of KM. Aimed at students, young professionals, researchers and PI's in the GWF network, the webinar series will provide content that touches on various elements of KM, share examples of successful initiatives in action, and discuss and troubleshoot common challenges that arise across the network. 
UPCOMING: Introduction to Digital Storytelling for Stakeholder Engagement
Date: Friday, October 25
Time: 2:00 – 3:30 pm ET
Who should attend: Researchers (students and faculty) curious about how to create your own digital story
Find out more and register here.
About the webinar
Digital storytelling is a process that, when produced effectively, can facilitate knowledge mobilization to stakeholders by illustrating complex concepts in a clear and appealing way. A well-crafted narrative and video is an excellent medium to attract attention to your research, is a good starting point for a shared understanding which can facilitate future dialogue, and has the potential to change the way we engage beyond academia. In this webinar you will be introduced to the concepts and how-to of making a fun, creative, to-the-point, and easily accessible digital story that you can add to your knowledge mobilization toolbox. You will leave the session inspired to start your own digital story.
Facilitated by:
Stephanie Morningstar, Indigenous Knowledge Mobilization Specialist, Global Water Futures, McMaster University

Andrew Spring, PhD, Knowledge Mobilization Specialist, Global Water Futures, Wilfrid Laurier University 
Please register for this event on Eventbrite.
Webinar Series Schedule
Stay tuned for the full 2019-20 calendar of topics.