Learn ways to ensure your project makes a lasting impression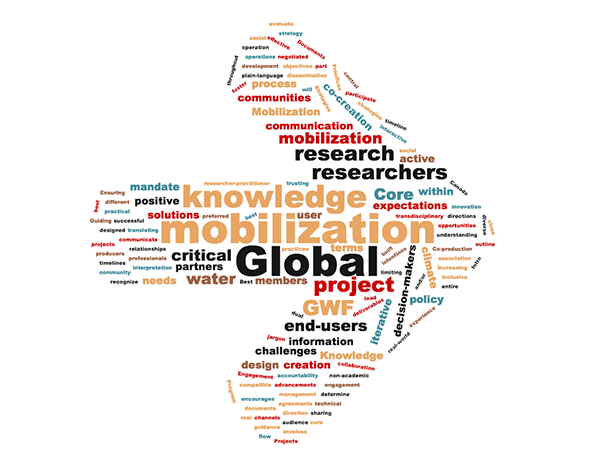 Knowledge Mobilization (KM) comes in all shapes and mixes, from briefing notes to workshops; community engagement to co-creation of research questions. Learn how through the KM Webinar Series. Continuing September 2019, the KM Webinar Series will cover a variety of topics to help you harness the power of KM to ensure your project makes a lasting impression.
Knowledge Mobilization Webinar Series
The KM Core Team annual webinar series aims to increase awareness about the value and principles of KM. Aimed at students, young professionals, researchers and PI's in the GWF network, the webinar series will provide content that touches on various elements of KM, share examples of successful initiatives in action, and discuss and troubleshoot common challenges that arise across the network. 
Coming Up: How to Develop Effective KM Plans for Grant Proposals
September 12, 2019
12pm CST / 2pm EDT (1.5 hrs)
Location: You can join your colleagues in person or participate online (WebEx details below)
University of Saskatchewan: NHRC Boardroom 1028
University of Waterloo: SCI PHY 3019 - GWF Conference Room
Laurier and McMaster: TBC
Speakers: Katya MacDonald and Joelena Leader, Research Facilitators, University of Saskatchewan
In the academic world, learning how to write a great funding proposal is a critical skill that can help set you apart and enhance your career. Effective knowledge mobilization (KM) plans are a key component of GWF user-led projects and will be a critical element in evaluating renewal proposals, and are also increasingly important in all tri-council and other funding programs.    
To help you in writing effective knowledge mobilization plans for research grants, this webinar features two experts in grant development from the University of Saskatchewan. The presentation is based on the knowledge mobilization framework developed by the Social Sciences and Humanities Research Council (SSHRC), the principles of which can be adapted and applied broadly to NSERC, CIHR and other funding proposals.
You will leave the seminar with practical advice on how to develop specific activities and tools that facilitate the two-way exchange of research knowledge between researchers and partners, practitioners and users. We will cover topics including definitions of KM, scope of a good KM plan, how to tie your KM plan into the rest of your proposal, and knowing if your KM plan is successful. 
This seminar is open to anyone within the GWF network, but could be especially timely for researchers and project managers who are working on developing Pillar 3 project renewal proposals.
Please RSVP 
Join by WebEx
Or by phone:
+1-855-244-8680 Canada Toll Free
Access code: 927 189 405
Webinar Series Schedule
Stay tuned for the full 2019-20 calendar of topics.