About
Global Water Futures is pleased to announce the second annual Discover Photo Contest. The contest will highlight and promote the Global Water Futures vast program and the numerous research projects within.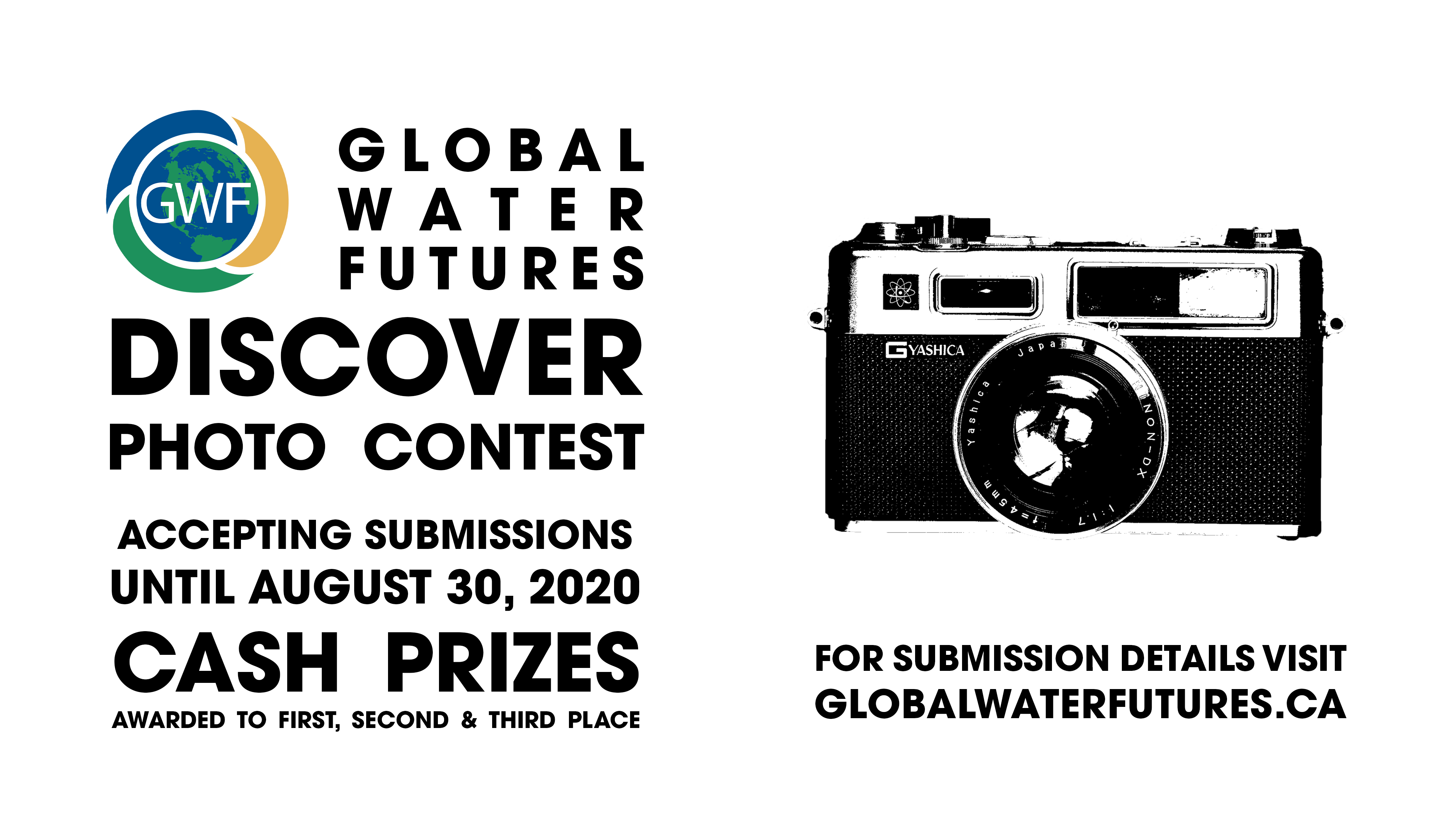 Submission Deadline: August 30, 2020
Don't hesitate, submit today!
Submit a photo(s) along with the caption and brief description of the activity to Morgan Braaten at morgan.braaten@usask.ca
Terms of Reference
Purpose:

This is a yearly photo contest award to be conferred to an individual or a group affiliated with Global Water Futures (GWF) in recognition of her/his/team's commitment to the promotion of Global Water Futures research.

Expected Outcome:

i) Promotion and communication of research projects

ii) promotion of GWF activities across Canada

Eligibility:
To be eligible, participant(s) must be affiliated with GWF or its projects.
Selection Committee:

The selection committee will be comprised of a panel of judges from across the GWF network. 

Submission Process:

An individual or a group affiliated with GWF can submit a photo(s) along with the caption and brief description of the activity to Morgan Braaten at morgan.braaten@usask.ca by August 30, 2020. Multiple entries may be submitted. All submissions (or perhaps a short list)
will be posted on the GWF website for public viewing and to invite comments to inform the judging process. Participants are also required to sign a photo copyright waiver form.

Selection Criteria:

The selection committee will consider the following criteria while assessing
the video contest entries:

1) alignment with GWF themes and goals;

2) the visual impact of photo on science and society;

3) description and

4) creativity.

The photo could be taken by using as simple as smartphones or as complicated as professional cameras. The awards will not be made if no
suitable photo entry is identified.

Value:

The winner (individual or team) of this award will receive a certificate and cash credit of $500. There will be prizes of $300 and $200 for the first and second runners-up and a $200 viewers award. Awards will be handed out at the GWF Annual Science Meeting and photos will be displayed at the meeting.

Copyright:

Submitted photos remain the property of the participant(s). However, upon submission of a photo, the photo contest entrant(s) grants GWF non-exclusive, transferable, royalty-free, worldwide license to use the submitted material for use in promoting GWF. GWF reserves the right to showcase all winning photos indefinitely on our website, public media channels such as Facebook, Twitter, etc, at conferences, and other USask websites. GWF rights shall not include the sale of submitted photos to other parties or other commercial use. Photo credits will be provided where possible.
FIRST PLACE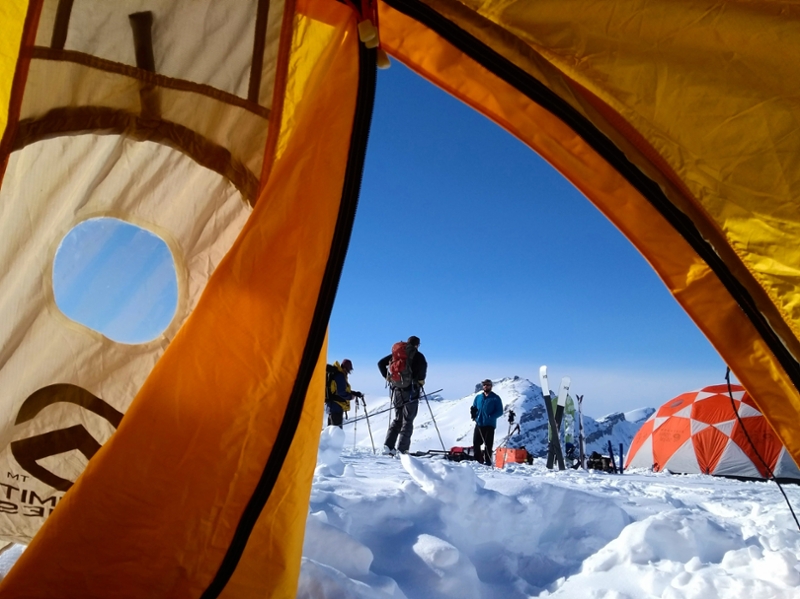 Scenic morning briefing 
Photo by Caroline Aubry-Wake, University of Saskatchewan
During fieldwork on Peyto Glacier in March 2018, every morning would start with a group meeting to discuss the daily plan, organize the gear and ensure a safe and productive day. Let's just say the views were better than the typical morning briefing
SECOND PLACE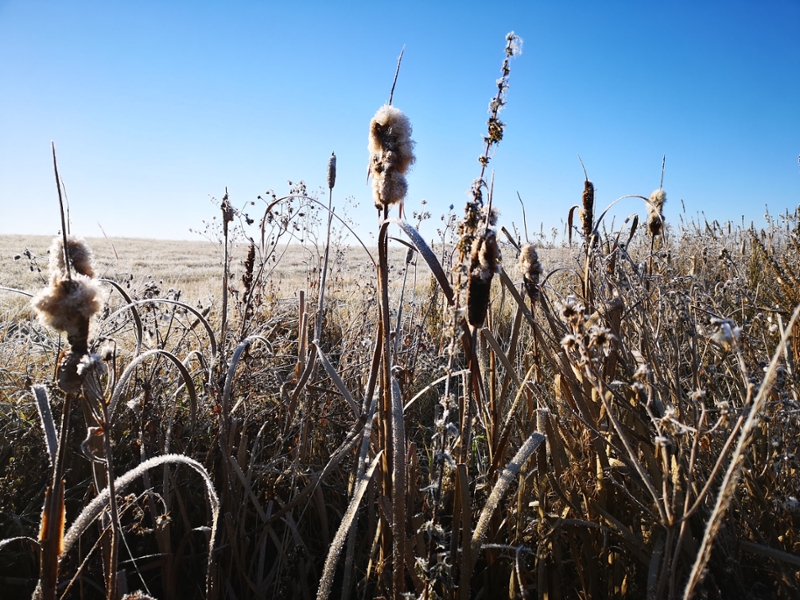 Resilience
Photo by Amy Hergott, University of Saskatchewan
The resilience of our freshwater resources are significantly enhanced by the biogeochemistry of prairie potholes which scatter the landscape. Agricultural fertilizer applications have put the PPR under substantial stress, resulting in the accumulation of nitrogen in the environment and threatening biodiversity, human health, and water quality. Prairie potholes can offset the threat of nutrient export and pollution in adjacent water bodies through many transformative biogeochemical processes. Exploring these pathways and recognizing the ecosystem services provided by prairie pothole can aid in balancing food production with the preservation of natural ecosystems.
THIRD PLACE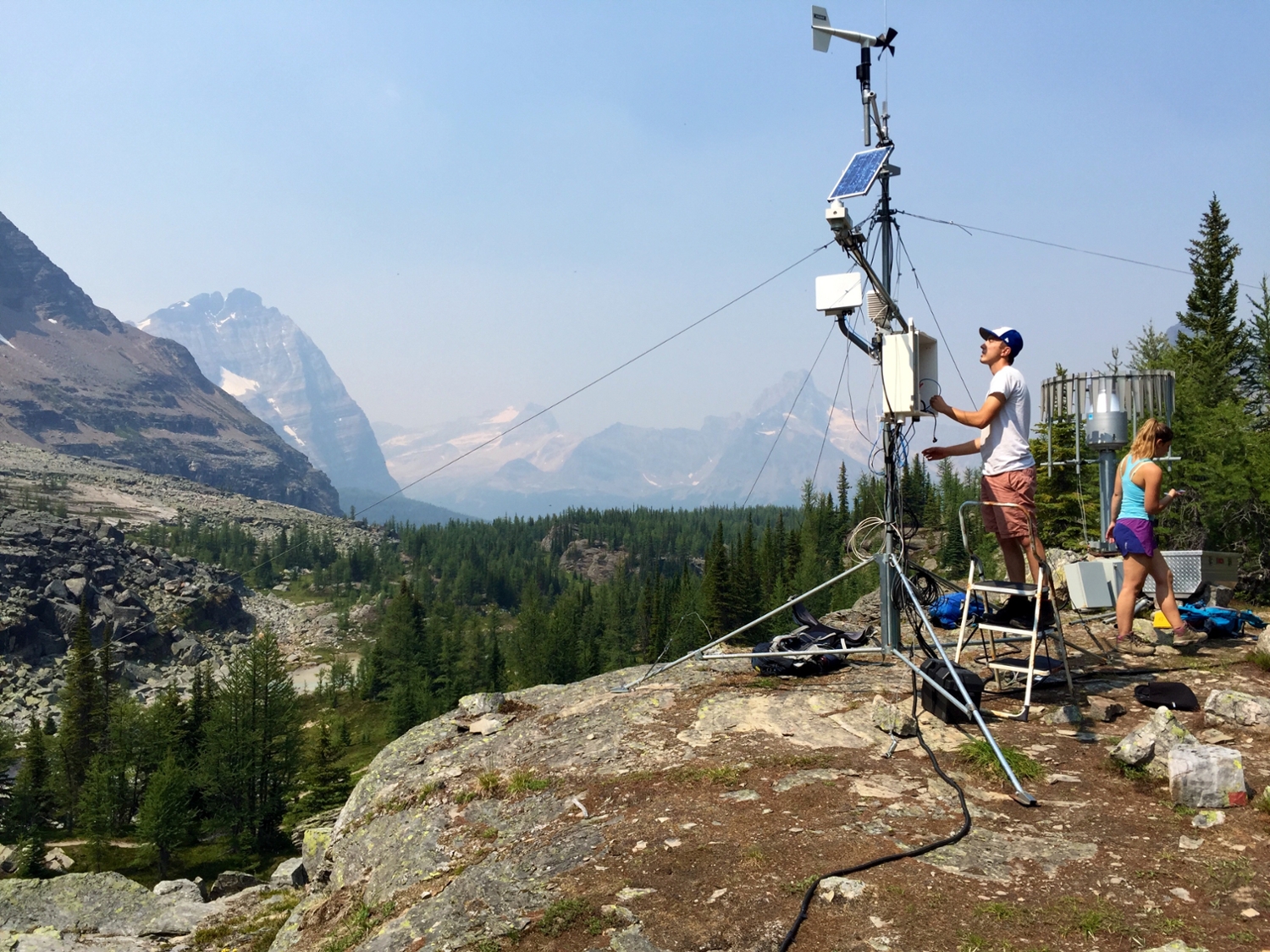 Opabin Plateau 
Photo by Benjamin Roesky, University of Calgary
Meteorological monitoring of Alpine catchments is used to quantify the water in/out-puts in these environments. As the climate warms, precipitation will increasingly take the form of rain rather than snow which will alter the flow that supplies some major Canadian cities with water. Due to the harsh conditions the weather stations must be maintained regularly (pictured). This station is located near Lake O'hara which has been described as 'the secret heaven of Yoho National Park'.
HONOURABLE MENTION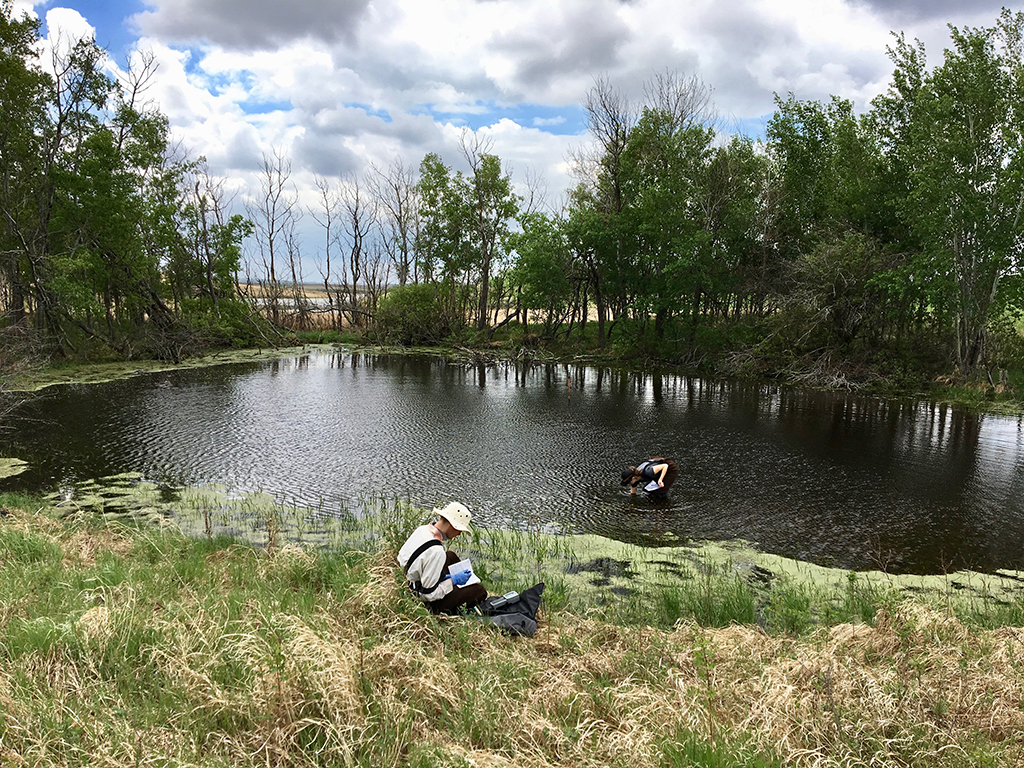 Pondside View
Photo by Katy Nugent
This is Cam Hoggarth recording data using a water quality sensor. Stephanie Witham is collecting water which will be analyzed in the lab for various parameters, she's also taking soil samples from the pond at St. Denis National Research Area, looking at the variation in wetlands across the area after the spring melt is over - May 25 2018.
 
Colourful creek 
Photo by Luis Morales Marin, University of Saskatchewan
In natural forested catchments, nutrients are transported through overland or groundwater flow after the decomposition of deciduous plants and fallen leaves. Nutrient enrichment stimulates the growth of alga and aquatic plants and, in extreme cases, the occurrence of eutrophication. This picture, taken in 2016 in an small creek located in the eastern Colombian's sabanas, shows a creek invaded by colourful algae and macrophytes as a consequence of large input of nutrients from riparian zones.

En route to the field site 
Photo by Laura Lyon, McGill University
En route to their field site, Mountain Water Futures researchers pause to take in the balmy spring landscape of the Wolf Creek Research Basin near Whitehorse, YT. In March of 2018, our team conducted capacitive-coupled resistivity surveys to develop a better understanding of groundwater processes in areas of discontinuous permafrost like Wolf Creek. Water, ice, soil, and rock all have different resistivities making these surveys a valuable tool since groundwater and permafrost can't be visually observed in their natural state.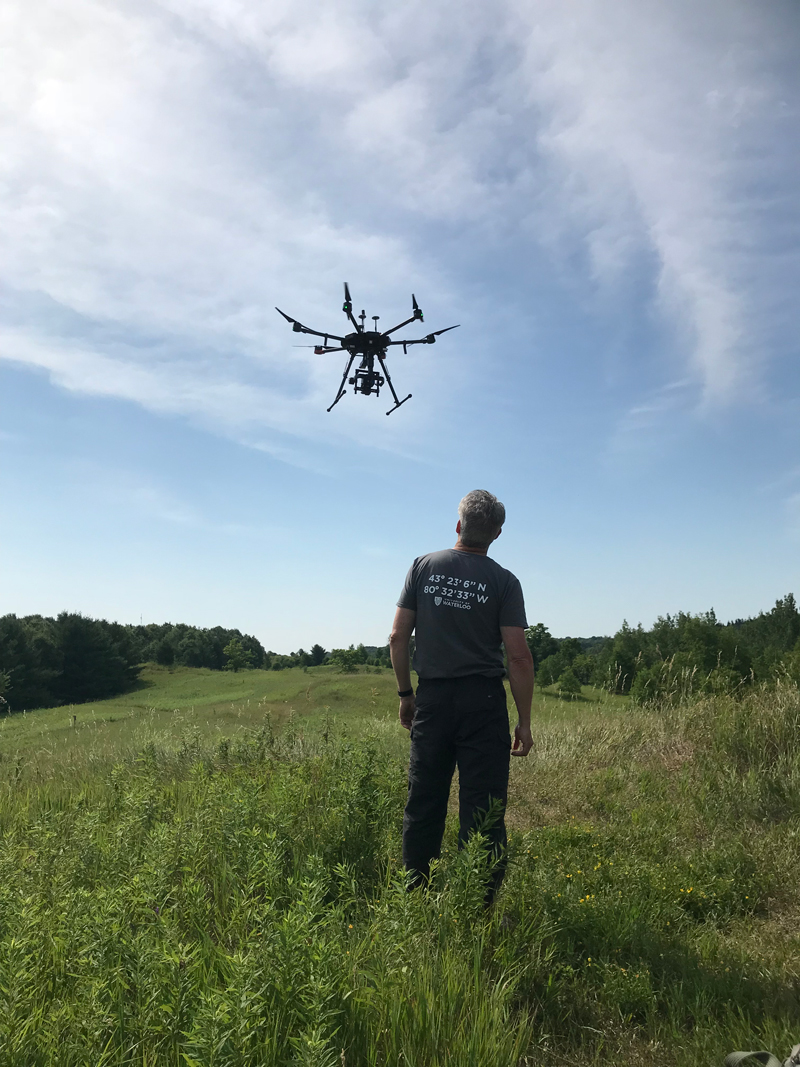 A smart watershed network takes to the sky
Photo by Allie Dusome, University of Waterloo
Canada's water resources span an enormous range in geography, climate and ecosystems. Increasing threats to water quantity and quality from climate change, urbanization and resource development require a transformation in how environmental data is collected, integrated, analyzed and communicated.
Waterloo professor Claude Duguay and his team are working with industry and end-users to build and test emerging technologies such as drones and sensors which will withstand sub-zero temperatures, and a microsatellite to collect data on water quality and quantity.

Ohneganos Ohnegahdę:gyo (Water is Life)
Photo by Sarah Duignan, McMaster University
The Grand River is an integral part of the culture and history of Six Nations and subjected to contamination through the legacy of colonization. The contamination impacts not only the biological health of people and ecosystems, but contributes to the psychological, emotional, spiritual, and community wellbeing of Six Nations people - water is life, the river is a bloodstream. There is a cautionary balance held by residents of both respecting the river, and feelings of loss in the damage that's been inflicted upon it and the community. It also represents the caution we proceed with as interdisciplinary collaborators on a unique project. We bridge Indigenous sciences and knowledge with western sciences to improve water quality and community wellbeing, working to co-create and heal both source water and the historical and contemporary traumas Six Nations residents experience.

Lightning crashes
Photo by Dyann Pratt, University of Saskatchewan
Our climate is in a constant state of flux and we are seeing more extreme storm events in places they aren't usually seen. This event in particular was captured outside of Saskatoon last summer (2017). The severity of thunderstorms I have noticed is increasing, I moved here 14 years ago and last summer the storms were the most violent I've seen!