Changing Cold Regions Network (CCRN)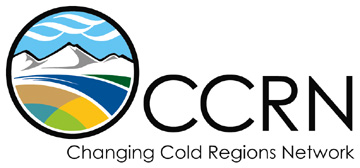 The Changing Cold Regions Network (CCRN) is a collaborative research network that studies the rapid environmental change in the cold interior of western Canada. CCRN is developing the tools and scientific understanding to manage this change and brings together the unique expertise of a team of over 50 university and government scientists, including 36 Canadian scientists representing four government agencies and eight universities, as well as 15 international scientists.  The network is funded for five years (2013-18) through the Climate Change and Atmospheric Research Initiative of NSERC.
CCRN's objectives are to integrate existing and new sources of data with improved predictive and observational tools to understand, diagnose and predict interactions amongst the cryospheric, ecological, hydrological, and climatic components of the changing Earth system at multiple scales, with a geographic focus on Western Canada's rapidly changing cold interior.
Through its members, the network operates Water, Ecosystem, Cryosphere and Climate (WECC) observatories distributed across the interior of western Canada. These observatories are located throughout the Saskatchewan and Mackenzie river basins.
CCRN is one of the ten Regional Hydroclimate Programmes of the World Climate Research Programme's (WCRP) Global Energy and Water Exchanges (GEWEX) project – the only current one in North America.   
For more information, visit the network's website.
International Network for Alpine Research Catchment Hydrology (INARCH)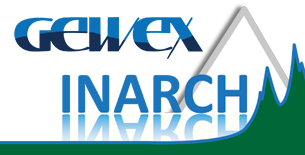 The International Network for Alpine Research Catchment Hydrology (INARCH) project is led by John Pomeroy, Canada Research Chair in Water Resources and Climate Change. INARCH is a Global Hydroclimate Programme (GHP) cross-cut project of WCRP's GEWEX and a recognized contribution to the world water security initiative of UNESCO's International Hydrological Programme.
The overall objective of INARCH is to better understand alpine cold region hydrological processes, improve their prediction and find consistent measurement strategies. To achieve this objective it is necessary to develop transferable and validated model schemes of different complexity that can support research in data-sparse mountain headwaters where climate change impacts on water resources are anticipated to be very severe. INARCH has 25 intensely instrumented high-mountain research catchments in North and South America, Europe and Asia that form a vast outdoor intercomparison laboratory.
By combining the expertise of over 40 principal collaborators from 17 countries, INARCH addresses important issues such as snow, glacier and permafrost hydrology;representation of snow and ice in hydrological land surface models, model downscaling in complex terrain, and improving the prediction of climate change impacts in themountain headwaters that support water resources for half the world's population www.usask.ca/inarch. INARCH is publishing global mountain research catchment datasets in a special issue of Earth System Science Data: http://www.earth-system-science-data.net/special_issues/schedule.html#9
Future Earth: Sustainable Water Futures Programme

The Sustainable Water Future Programme (Water Future) is a global research programme established under Future Earth and aims to provide the knowledge and support to accelerate transformations to a 'more sustainable water world'.
Recently, the Global Institute for Water Security (GIWS) has developed a memorandum of understanding to establish a collaborative Partnership, founded on the principles of collaboration and cooperation, to provide expertise and resources for undertaking coordinated and strategic research activities that will underpin the sustainable management and use of water in this time of significant global environmental change. The broad aim is to enhance the contribution of strategic scientific and technical research and innovation to the sustainable management of the hydrological cycle, including rivers, groundwater and wetlands. Consequently, the GIWS and GWF program are now considered as the Canadian hub and a secretariat to support Canadian engagement with Water Futures in order to build links to the international community and Future Earth and publicise the activities and achievements of the program with a particular emphasis on global cold regions, and enhance the contribution of strategic scientific and technological research and innovation to the sustainable management of the hydrological cycle, including rivers, glaciers, snowpacks, rivers, groundwater, permafrost and wetlands.