News
Applications for FALL 2019 Travel Bursaries - Now Open
Travel Bursaries are available to GWF-YPs planning to attend conferences, training, workshops, or professional development activities away from home. Deadline to apply for travel during FALL 2019 is October 1, 2019.
Applications for AGU Travel Bursaries - Closed
Applications for AGU 2019 Travel Bursaries are now closed, and successful applicants have been contacted.
Upcoming Events
McMaster Water Research Showcase - November 1st 2019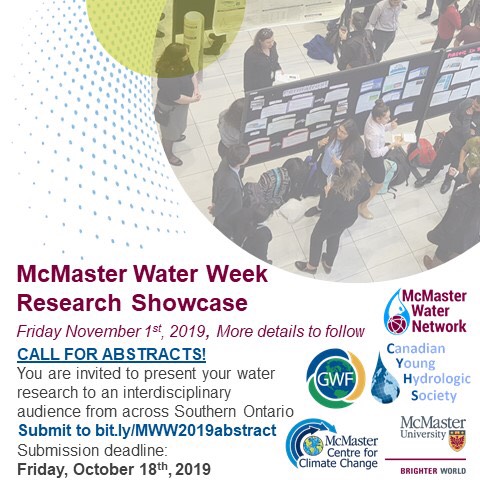 YPs from McMaster, Waterloo, and Laurier will be hosting a poster showcase as a part of McMaster Water Week, with a social event at the Pheonix to follow!
Students from across southern Ontario are invited to apply. Busses from Waterloo and Laurier to McMaster will be available for the event, more details to come!
Abstract submission is now open! The deadline is Friday, October 18th.
Follow us for the latest news and event updates!
Contact
Become a Member
 Do you attend one of the GWF national or international partner institutions?

 Are you actively involved with one of the GWF research projects?

 Are you a student, postdoc, or research associate within 5 years of graduating from graduate school?

 Do you want to network with other researchers and share your experiences?

 Are you interested in professional development opportunities?

 Do you like to socialize and have fun?
Click here to register today!