GWF-YP Travel Bursaries
The Global Water Futures - Young Professional Travel Bursaries are available for student and post-doc members who wish to enrich their academic experience by travelling to attend conferences, training, or workshops not offered at their home institutions. 
A total of sixteen $500 travel bursaries will be available each academic year. Four winners will be selected per semester (fall, winter, summer). The remaining four awards will be for travel to specific conferences (ie. AGU).
Applicants may be awarded one travel bursary per academic year. Application deadlines will be set once per semester.
Applications for Summer 2020 Travel Bursaries
The deadline to apply for Summer 2020 Travel Bursaries is June 1st, 2020.
To qualify travel must occur between  May 1st, 2020 and August 30th, 2020.
Applications are now open!
GWF PhD Excellence Scholarships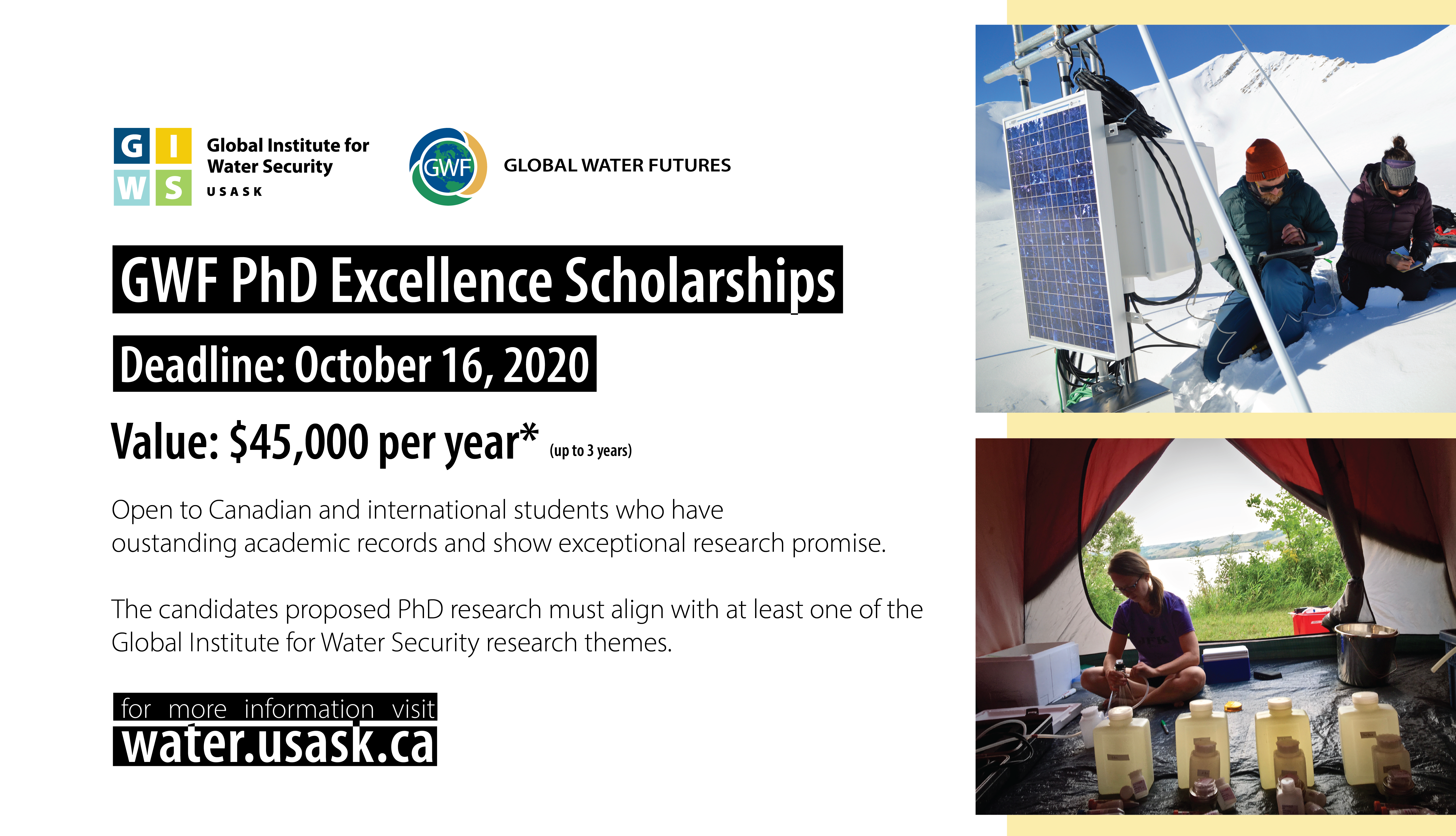 The Global Water Futures (GWF) PhD Excellence Scholarship is an entrance scholarship that is offered to students who have outstanding academic records, show research promise, have exceptional communication, interpersonal and leadership abilities, and at the time of application, have not yet been accepted or registered for a PhD program at University of Saskatchewan. 
The proposed PhD research program should be in alignment with at least one of the GIWS themes and GWF research areas, under the supervision of a faculty member of the Global Institute for Water Security. 
Award Value  

Awards valued each at $45,000 per year (up to 3 years). 

There are no service expectations while on GWF PhD Excellence Scholarship.

The award can be supplemented (by up to $25,000)in cases where a successful applicant holds other awards/scholarships (internal or external to U of S). 

Eligibility

Open to Canadian and international students who are entering a PhD program for the first time at the University of Saskatchewan. To be eligible, applicants must:

Have an entrance GPA of at least 85% or equivalent;
Show evidence of previous research productivity as demonstrated by authorship of refereed journal publications and conference presentations/publications;
Have not been accepted or registered as a PhD student at U of S.

Selection Criteria

Selection will be based upon academic achievements (30%), research potential (50%), communication, interpersonal and leadership qualities (20%), as determined by the Award Committee.

Application Process

Application package should consist of: 

A statement of purpose (max. 3 pages) that details relevant academic excellence, research abilities, communication, interpersonal and leadership qualities;
An updated curriculum vitae (max. 10 pages)
Three letters of recommendations attesting to the quality and research ability of the applicant (2 pages max. per letter)
Students must be nominated by a potential supervisor at UofS; one letter of support from this supervisor is required, outlining the quality and excellence of the applicant and their alignment with the GIWS and GWF areas of research (max. 2 pages)

Send application package via email to:

Stacey Dumanski
Outreach Coordinator, GIWS
email:stacey.dumanski@usask.ca

Deadline

The closing date for receipt of applications is October 16.2020
For more information, visit the Global Institute for Water Security website. 
Theme 1 - Climate Change and Water Security: Developing sophisticated understanding and modelling of current and future effects of climate change on hydrology, ecology and water resource systems, and the associated land-atmosphere feedbacks.
Theme 2 - Land-water Management and Environmental Change: Exploring the effects of agricultural and urban land and water management on water quality and water movement through a watershed, as well as the potential for agricultural beneficial management practices (BMPs) to mitigate adverse effects.
Theme 3 - Sustainable Development of Natural Resources: Developing new science and management practices that could significantly change the way water is used, how land and water are reclaimed, and how environmental risks are assessed and managed in natural resources development.
Theme 4 - Socio-hydrology: This program encompasses both the human drivers of hydrological change and the social processes through which hydrological science is translated and communicated to relevant decision-makers.
Theme 5 - Water and Health: We are looking at issues that are critical to society, such as drinking water quality, water hygiene and sanitation, transmission of waterborne and water-related diseases in an ecosystem, aquatic pollution and effects on the food chain, wastewater re-use, extreme events such as flooding and drought, and health-based water quality standards.
Theme 6 - Water and Wastewater Treatment Technologies: We are assessing impacts of contaminants on environmental and human health by addressing challenges that include appropriate technology for rural communities, development of advanced water treatment technologies to tackle emerging contaminants in our water systems, improved technologies for the treatment of industrial wastes, including those generated by natural resource extraction, and improved technologies for remediation of pollution.
Theme 7 - Groundwater and Hydrogeology: This theme is exploring major challenges to quantify the extent of groundwater resources and their quality, the natural recharge, the long–term impacts of abstractions and waste disposals, the impact of resource development, and hence to provide the information needed for sustainable development.
Hydrometeorology and Climate Change: improve understanding of how climate change influences water availability and extreme events, and develop knowledge foundational for understanding subsequent impacts of climate change on water.
Hydrology and Terrestrial Ecosystems: improve understanding of how hydrological and terrestrial ecological processes will co-evolve under a changing climate, providing critical information on landscape and water futures.
Water Quality and Aquatic Ecosystems: improve understanding and predictive modeling of how changes in climate, hydrology, and land use impact water quality and the health of aquatic ecosystems in cold regions, including Canada's large lakes.
Human-Water Systems: address the human dimensions that will determine water futures by: (1) integrating human behaviour, economic valuation, and policy decisions into water resource models, (2) building adaptive governance models to deal with problems of uncertainty, (3) developing and testing economic tools and incentives for managing water futures, (4) conducting basic social science research into the social processes and learning embedded in stakeholder engagement, and (5) building an indicator system that enables benchmarking performance for governance deficiencies, policy transfer, and social learning.
Water and Health: how changes to climate, extreme events and water quality will affect human health in urban, rural and Indigenous communities. For instance, we will address the critical questions on source water protection for Indigenous people: "Is the water safe to drink? Are the fish safe to eat?"