2020-2021 Executive
The GWF YP's are still looking for a representative from
McMaster University
! If you are interested in becoming a GWF YP executive, please email
gwf.youngprofessionals@gmail.com
Emily Ogden - Wilfrid Laurier University Liaison & YP Chair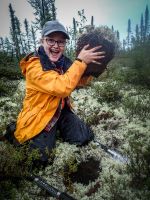 Emily is a Master's student at Wilfrid Laurier University. Her work focuses on the interactions between changing permafrost conditions and vegetation in the Northwest Territories. When not working on her thesis Emily enjoys hiking, canoeing, and sushi. 
Email: ogde9440@mylaurier.ca
Leila Eamen - University of Saskatchewan Liaison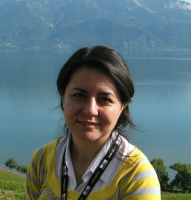 Leila is a Ph.D. Candidate in the School of Environment and Sustainability at the University of Saskatchewan. Her work contributes to understanding the interactions in the complex human-natural systems and informing robust decision-making around the efficient and sustainable allocation of limited water resources.
Email: leila.eamen@usask.ca 
Jessica Williamson - University of Waterloo Liaison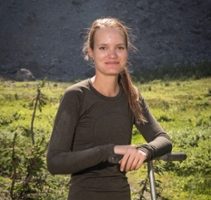 Jessica is a first-year PhD student working under the supervision of Dr. Richard Petrone on a Boreal Water Futures project. Her work focuses on identifying the impact vegetation regrowth has on water availability on reclaimed peatlands in the Athabasca Oil sands Region. Jessica is an avid backcountry camper, kayaker, and plant mom.
Email: ja5williamson@uwaterloo.ca 
Nicole Balliston - University of Waterloo Liaison Support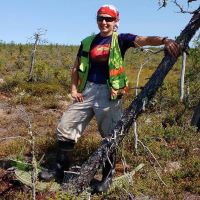 Nicole is a Ph.D. Candidate in the Geography and Environmental Management program at the University of Waterloo. Her study focuses on the impact of reduced water availability, via mine dewatering and climate change, on sub-arctic peatland hydrology and connectivity in the James Bay Lowlands. In her spare time, Nicole enjoys rock climbing, hiking, camping, and hunting for Sphagnum moss wherever she goes.
Email: nballiston@gmail.com 
Julia Cantelon - Canadian Young Hydrologic Society Representative
Email: jcantelon@dal.ca 
Erin Nicholls & Alanna Bodo - McMaster University INTERIM Liaisons
Position Overview
Structure
The GWF-YP brings together the GWF funding partner institutions (USask, UWaterloo, McMasterU, and WLU) with two liaisons from each institution sitting on the GWF YP executive committee. Each liaison will be for one year term and will be eligible for renewal or re-election.
Eligibility
All GWF-YP members (students, postdoctoral fellows, and early career researchers (<3 years into career) working with a GWF Project) can apply to become a Liaison via an online form available on the GWF website. Applicants will be required to have support from their supervisor(s).
Roles and Responsibilities
The roles and responsibilities of the executives will be reviewed once every year and if required, will be modified to suit the needs of the committee with approval from the GWF-YP 
Selection Committee
.
 The following outlines the roles of each Liaison:
President – Chapter Chair 1
Direct and oversee the GWF-YP program.
General responsibility for coordinating the activities of 3 other Chapter Chairs.
Appointed representative of the GWF-YP's at meetings/events.
Where appropriate, the President will seek advice from the GWF Outreach Coordinator.
Responsible for GWF-YP finances, including reporting and liaising with GWF Finance Director.
Lead the preparation of annual reporting in support of other Chapter Chairs (financial status, annual activities etc.).
Maintain communication between GWF-YP and other GWF support staff, faculty and other researchers.
Acts as an official spokesperson for outside contacts.
All Chapter Chairs and CYHS President
Executives are required to attend monthly GWF-YP teleconference meetings as well as regionally held meetings.
Executives will hold their position for a 1-year term (starting May 2018), with the exception of the past-President who will stay on for 3 additional months in an advisory capacity.
All members are highly encouraged to support GWF-YP activities using their own social media.
Assist with annual reporting.
Responsible to oversee planning and executing of activities in their respective Chapters.
Liaise with other local student groups to collaborate on events, including professional development and social activities, volunteer opportunities, etc.
Help promote GWF-YP activities and major GWF events.
Plan and implement social activities, including monthly social events in their respective chapters.
Organize and promote outreach activities both at an institutional level and local communities (i.e. Let's Talk Science etc.).
Assist in planning and executing an annual social event at GWF Annual General Meeting.
Liaise with the GWF Communications Team (see Appendix A) to help promote major GWF milestones, events, etc.
Communicate student achievements (publications, conference presentations, awards/scholarships, acknowledgments etc.) to GWF Communications Specialist.
Organizes executive meetings and is responsible for taking minutes at monthly meetings.
Selection Process
Selection Comittee
Selection of executives (Chapter Chairs) will be conducted by an appointed Selection Committee. The executives will be selected based on merit and the Selection Committee must ensure a balance of graduate student and postdoctoral fellows. The Selection Committee will also decide on who should assume the role of President among selected executives and will ensure to rotate the leadership position among partner institutions.
Note: The CYHS President will automatically be elected to the Executive committee.
The GWF-YP Chapter Chair selection criteria is as follows:
Academic Excellence – 25%
Extracurricular Activities & Past Experience – 30%
Supervisor Recommendation – 25%
Statement of Purpose – 20%
Honorariums
Each GWF-YP executive committee member will be eligible for an honorarium that could be used towards professional development activities such as travel to conferences or attend workshops as follows:
$1000 – President – Chapter Chair 1
$750 – Chapter Chairs 2-4 & CYHS President
Application
Executive Application
We're recruiting for the 2020-2021 year
Please fill out the application provided below and submit to Stacey Dumanski, stacey.dumanski@usask.ca by June 30, 2020
If you have any questions or comments, please contact the GWF Outreach Coordinator, Stacey Dumanski.