Applications for 2019 GWF-YP Executive Roles are Now Closed.
The GWF SMC Committee is now reviewing applications. The new GWF-YP Executive will be annouced at the 2nd Annual Open Science meeting in Saskatoon on May 15th. 
Current Executive
Natasa Popovic - University of Waterloo Chapter Chair and GWF-YP President
Bio coming shortly. 
Laura McFarlan - University of Saskatchewan Chapter Chair
Bio coming shortly. 
Alanna Bodo – McMaster University Chapter Chair
Bio coming shortly. 
Matthew Teillet - Wilfrid Laurier University Chapter Chair
Bio coming shortly. 
Caroline Aubry-Wake - Canadian Young Hydrologic Society Chair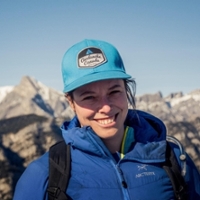 Caroline is a second year PhD candidate under supervision of Dr. John Pomeroy at the University of Saskatchewan. Caroline's studeies the influence of climate change of glacier dynamics in the Canadian Rockies. 
Email: caroline.aubrywake@usask.ca 
Position Overview
Structure
The GWF-YP will consist of four chapters (one each for UofS, University of Waterloo, McMaster University and Wilfrid Laurier University) with four respective Chapter Chairs. Each chair will be for one year term and will be eligible for renewal or re-election.

Eligibility
All GWF-YP members (students and postdoctoral fellows working with a GWF Project) can apply to become a Chapter Chair via an online form available on the GWF website. Applicants will be required to have support from their supervisor.
Roles and Responsibilities
The roles and responsibilities of the executives will be reviewed once every year and if required, will be modified to suit the needs of the committee with approval from the GWF-YP 
Selection Committee
.
 The following outlines the roles of each Chair:
President – Chapter Chair 1
Direct and oversee the GWF-YP program.
General responsibility for coordinating the activities of 3 other Chapter Chairs.
Appointed representative of the GWF-YP's at meetings/events.
Where appropriate, the President will seek advice from the GWF Outreach Coordinator.
Responsible for GWF-YP finances, including reporting and liaising with GWF Finance Director.
Lead the preparation of annual reporting in support of other Chapter Chairs (financial status, annual activities etc.).
Maintain communication between GWF-YP and other GWF support staff, faculty and other researchers.
Acts as an official spokesperson for outside contacts.
All Chapter Chairs and CYHS President
Executives are required to attend monthly GWF-YP teleconference meetings as well as regionally held meetings.
Executives will hold their position for a 1-year term (starting May 2018), with the exception of the past-President who will stay on for 3 additional months in an advisory capacity.
All members are highly encouraged to support GWF-YP activities using their own social media.
Assist with annual reporting.
Responsible to oversee planning and executing of activities in their respective Chapters.
Liaise with other local student groups to collaborate on events, including professional development and social activities, volunteer opportunities, etc.
Help promote GWF-YP activities and major GWF events.
Plan and implement social activities, including monthly social events in their respective chapters.
Organize and promote outreach activities both at an institutional level and local communities (i.e. Let's Talk Science etc.).
Assist in planning and executing an annual social event at GWF Annual General Meeting.
Liaise with the GWF Communications Team (see Appendix A) to help promote major GWF milestones, events, etc.
Communicate student achievements (publications, conference presentations, awards/scholarships, acknowledgments etc.) to GWF Communications Specialist.
Organizes executive meetings and is responsible for taking minutes at monthly meetings.
Selection Process
Selection Comittee
Selection of executives (Chapter Chairs) will be conducted by an appointed Selection Committee. The executives will be selected based on merit and the Selection Committee must ensure a balance of graduate student and postdoctoral fellows. The Selection Committee will also decide on who should assume the role of President among selected executives and will ensure to rotate the leadership position among partner institutions.
Note: The CYHS President will automatically be elected to the Executive committee.
The GWF-YP Chapter Chair selection criteria is as follows:
Academic Excellence – 25%
Extracurricular Activities & Past Experience – 30%
Supervisor Recommendation – 25%
Statement of Purpose – 20%
Honorariums
Each GWF-YP executive committee member will be eligible for an honorarium that could be used towards professional development activities such as travel to conferences or attend workshops as follows:
$1000 – President – Chapter Chair 1
$750 – Chapter Chairs 2-4 & CYHS President
Application
Executive Application
Please fill out the application provided below and submit to Morgan Braaten, morgan.braaten@usask.ca by March 29, 2019
.
If you have any questions or comments, please contact the GWF Outreach Coordinator, Morgan Braaten.