McMaster Water Research Showcase
YPs from McMaster, Waterloo, and Laurier hosted a poster showcase as a part of McMaster Water Week, with a social event at the Pheonix following the poster showcase.
Students from across southern Ontario were invited to apply. Busses from Waterloo and Laurier to McMaster were available for the event.
1st Annual Open Science Meeting 2018
From June 3-6 2018, McMaster University and Six Nations of the Grand River hosted the first Annual Science Meeting of Global Water Futures. The first activities of the GWF-YP group also took place! Organised in collaboration with the Canadian Young Hydrologic Society, we hosted 4 events during the conference. 
Sunday, June 3rd - Professional Development Workshop
Dr. Jeff McDonnell (University of Saskatchewan) gave an informative talk entitled, "The Art of Scientific Investigation," providing advice on navigating grad school and career paths, attributes of successful scientists and tips on communicating research outcomes. The talk was attended by a total of 90 undergraduate, graduate, post-doctoral fellows and early career professionals. Thank you to Dr. McDonnell for speaking and to all YPs that attended!
Sunday, June 3rd - Social Networking Evening and Bonfire
Following the Professional Development Workshop, YPs gathered at The Phoenix Bar and Grill. Over 100 students of all levels, post-doctoral fellows and early career professionals gathered to network and socialize. Attendees represented over 17 universities across the country. GWF-YP Chapter Chairs introduced themselves and kicked off the GWF-YP program for the 2018-2019 year.  Following the social networking event, attendees gathered at a bonfire on campus to continue the networking and discussion of ongoing GWF-YP research projects.
GWF-YP Oral and Poster Competition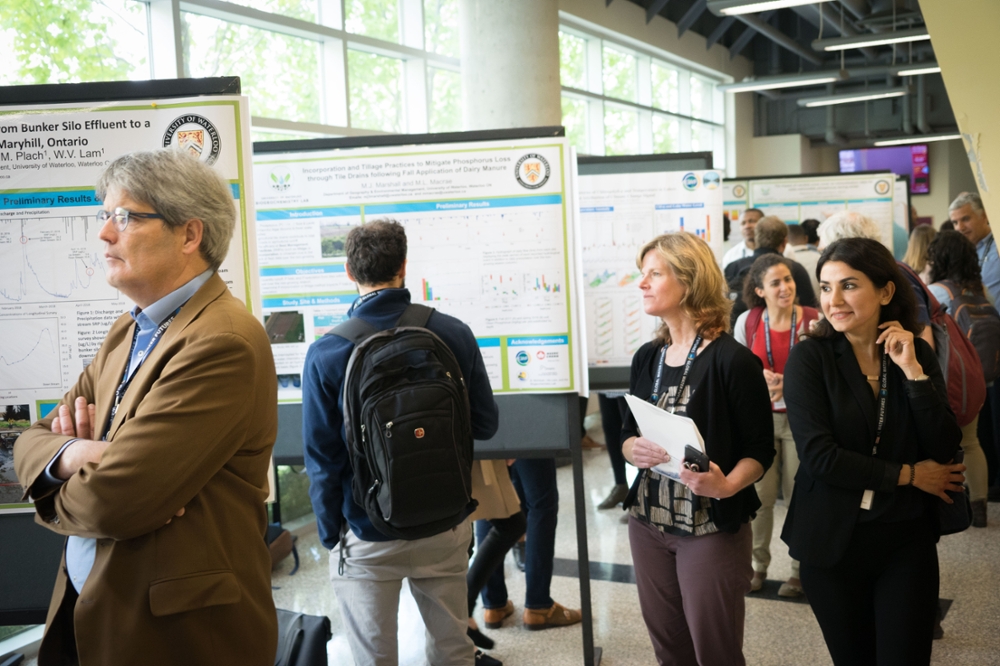 Excellent research conducted by GWP-YPs were highlighted in a research competition. With over 80 participants, presentations showcased the incredible water-related research from across the country. Thank you to all who participated and served as judges in this competition. Congratulations to our winners:
Student Winners:
1) Meredith Marshall – University of Waterloo  - "Incorporation and tillage practices to mitigate phosphorus loss through tile drains following fall application of dairy manure" (Poster Presentation)
2) Ana Laserna – McMaster University – "Chemiresistive sensors for monitoring the concentration of metal cations in water" (Poster Presentation)
PDF Winners:
1) Kim Van Meter – University of Waterloo – "Landscape Legacies: Long-Term Nutrient Trajectories in Great Lakes watersheds and Beyond" (Oral Presentation)
2) Mahyar Shafii – University of Waterloo – "Spatio-temporal variations of landscape nitrate fluxes in agricultural catchments driven by flow pathways and nutrient transport mechanisms" (Oral Presentation)
Tuesday, June 5th Young Professionals Social
Dr. John Pomeroy highlighted the role of the Young Professionals Program within the larger GWF context and encouraged YPs to "Follow your instincts and follow your passions." Following Dr. Pomeroy's talk, YPs headed to Fairweather Brewing Company for a YP social. 
Many thanks the countless volunteers at McMaster and Six Nations, and the GWF secretariat that helped make the Inaugural Annual Science Meeting such a success! In particular, many undergraduate students from the McMaster Water Network Student Chapter helped with booklets, greeted and guided ASM participants throughout the ASM.