IMPC
Integrated Modelling for Prediction and Management of Change in Canada's Major River Basins
Water management is complex.
Fragmented governance, a failure to link diverse forecasting and prediction systems, and increasing uncertainty are only some of the issues that challenge water management across Canada. To address these issues and more, our program links diverse research disciplines and investigator-user communities to develop and integrate complex modelling capabilities for Canada's seven major river basins.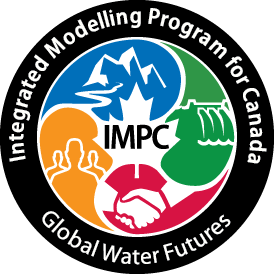 Integrated Solutions to Address Water Threats
The Integrated Modelling Program for Canada (IMPC) is a transdisciplinary research program bringing together scientists and stakeholders from six Canadian universities, twelve government agencies and more than ten end-user communities. This team provides a unique expertise that integrates atmospheric science, hydrology and ecology with social science, computer science, economics, and water resource engineering.
IMPC aims to develop modelling capability for the prediction and management of change in Canada's seven major river basins. The research themes of IMPC are designed to diagnose, simulate, and predict interactions amongst natural and human-driven water resource components of the changing Earth and environmental systems, and to deliver optimal decision-making tools and solutions for uncertain future water resources, considering the range of stakeholder needs in Canada's major river basins.