NORWICH - What does climate change look like?
For U.K.-based artist Gennadiy Ivanov, answering that question has become part of his life's work. 
Ivanov said he was Inspired to create after a series of expeditions and collaborations with two renowned climate scientists, where they traveled to the shrinking home of the polar bear, the receding landscape of large glaciers, even the melting ground where permafrost once existed.
"I'm trying to find my own approach to communicate this change with the public," said Ivanov, an accomplished artist who grew up in Belarus and now makes his home in Norwich. "I wanted to connect with scientists to do it the right way and to see what they were seeing."
It was his connection with Dr. Trevor Davies, professor emeritus with the School of Environmental Sciences at the University of East Anglia in Norwich, and Dr. John Pomeroy, director of the Global Water Futures program and Canada Research Chair in Water Resources and Climate Change at the University of Saskatchewan, that led Ivanov on a journey to see some of the most extreme examples of climate change, both at home and abroad.
"I believe that I can start an effective dialogue on the subject through an exhibition of paintings," said Ivanov. "I am now producing on an iconic symbol of the Earth system's vulnerability to climate change. I see this vulnerability close to my home in East Anglia. I see it in Canada."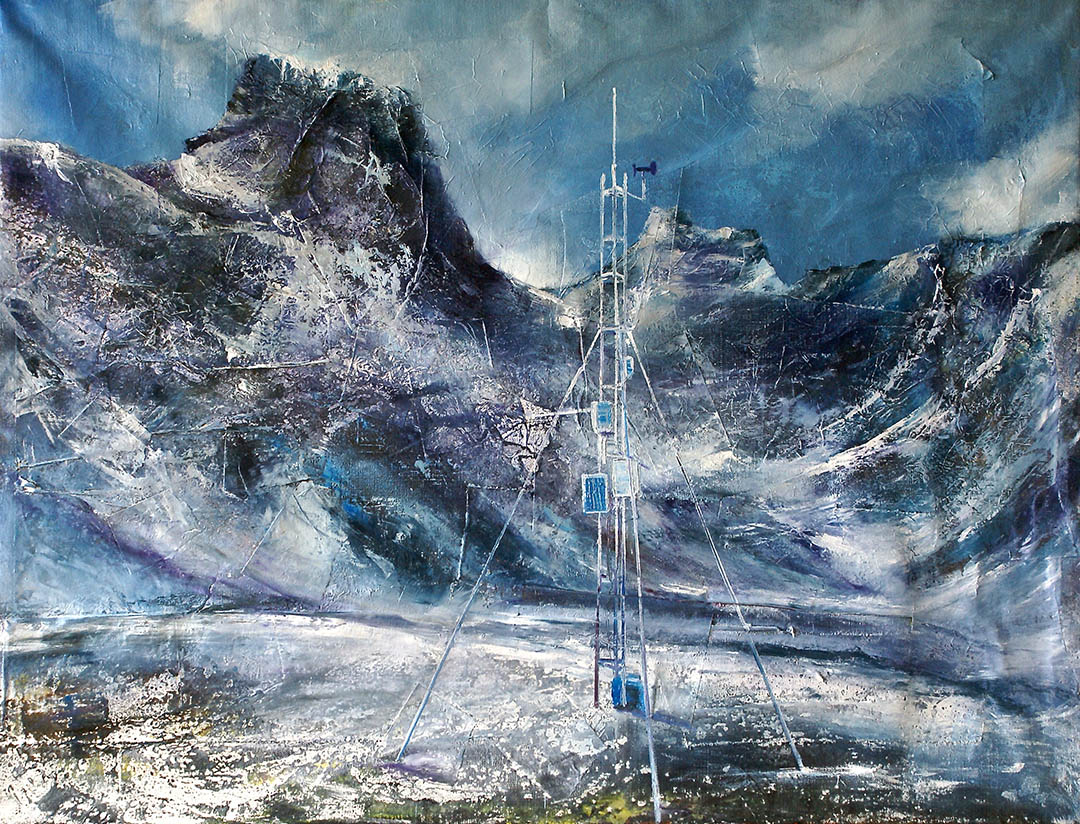 Davies and Ivanov examined the nearby Norfolk coastline – where erosion and rising water levels are having a profound effect.
"It's important to me that this project has excellent science," said Davies. "Ivanov sees science in a visual way, and where we live now there are big floods and a lot of coastal erosion. The change is clear, and Ivanov is doing his part to share this story through art. It's really incredible." 
Ivanov accompanied Pomeroy on a cross-Canada expedition in the spring of 2019 to see the effect climate change is having on colder regions. 
During the expedition, Ivanov visited renowned research sites where he saw huge mountain glaciers receding at record rates, melting permafrost in Canada's north where warming is happening three times faster than the global average, and a research site at Wolf Creek in the Yukon Territory where snow was melting earlier than ever before.
"The snow at Wolf Creek has never melted before April, and we have records going back to the early 1900s," said Pomeroy of the site. "It's incredible how fast everything is changing."
Pomeroy was delighted to have Ivanov reach out to him in an attempt to find new ways to communicate with the public. He said watching Ivanov create sketches, paintings, videos and even music on the nature of climate change has been inspiring.
"Art is such a powerful way to show the world what is happening," said Pomeroy. "As a scientist, I am always looking for new ways to share research, and what he has created is beautiful and terrifying – a great conversation starter."
Through July 29, Ivanov's interpretations through art are on display at The Hostry, Norwich Cathedral in an exhibit entitled Climate Change: Impacts in Norfolk and Canada. Davies, Pomeroy and Ivanov will all be in attendance at the gallery and available for interviews between July 17 – 18.
-30-
For more information or to arrange interviews, please contact:
Mark Ferguson 
Communications Specialist
Global Institute for Water Security
University of Saskatchewan  
+1 306 222 6915 
m.ferguson@usask.ca
water.usask.ca | globalwaterfutures.ca 
Or
Gennadiy Ivanov
Artist
+44(0)7982238190
gena-ivanov@yandex.com
Website