GWF EDI Statement
"Water is a great unifier of humanity and access to water is a human right. As water researchers, we have a responsibility to ensure that we treat ourselves and others in the spirit of water and ensure that equity, diversity, and inclusion are considered in all of our activities, so that we may be worthy of the medium we seek to better understand and predict."
 - Prof. John Pomeroy, Director GWF
GWF aims to position Canada as a global leader in water sciences for the world's cold regions, be the global partner of choice for transdisciplinary water research and provide strategic tools to manage water futures in Canada and internationally. Water research is at the core of environmental, social, and economic well-being globally. GWF researchers are leaders in many academic disciplines that contribute to an in-depth knowledge of water research in Canada and internationally.
Embedding the principles of equity, diversity, and inclusion (EDI) in the fabric of GWF's research and operations is critical to achieving our core goals and objectives.
GWF's Strategic Management Committee (SMC) recognizes systemic barriers to EDI in science do exist and require tangible action to make lasting change. Working together across such an extensive research network provides a clear opportunity to accelerate knowledge sharing and implement EDI practices specific to inclusive water research methodologies, community engagement, data collection, and mitigating the differential impact of empirical and theoretical research findings on marginalized people, and communities.
Our objective is to develop an intersectional approach that considers how power structures influence people's opportunities and experiences when they hold multiple intersecting identities (e.g., age, race, class, gender identity, dis(ability), and more). Together we can connect people working within the network, external partners, and end-users of the research around a shared vision for EDI in water research. To learn more please access: The case for equity, diversity, and inclusion in a large research network.
Meet the Team
As a research network, GWF's strength is in the diversity of our team. GWF employs 962 HQP across 51 projects and 6 core teams. GWF members work with 72 Indigenous Communities and Governments, over 478 unique stakeholder organizations and individuals, including 86 partners, 305 collaborators, and 87 end-users.
Our network includes 166 undergraduate students, 214 master's students, 175 doctoral students, 117 postdoctoral fellows, 60 professional research associates, 30 research scientists, 71 technicians, and 16 visiting fellows and professors and 190 faculty members from 18 Canadian Universities.
GWF is led by Prof. Baljit Singh (formerly Prof. Karen Chad), Principal Investigator and Vice President Research at the University of Saskatchewan and managed by Prof. John Pomeroy, Director and Chair of the Strategic Management Committee (SMC). The SMC appointed Associate Director and SMC member Prof. Corinne Schuster-Wallace as GWF's EDI Champion in 2020. Prof. Schuster-Wallace is the founder of GWF's Women+Water Lecture series and has extensive research experience working on gender, water, and health nexus. To further support our work, Dr. Andrea Rowe joined GWF in the fall of 2020 an Equity, Diversity, and Inclusion Specialist.
Indigenization
GWF has recognized the significance of Traditional Knowledge and respecting Indigenous community participation through co-creation and co-development of research projects. After extensive consultation, GWF created an Indigenous community water research strategy, which was used as a basis for a request for proposal and ultimately the funding of six Indigenous community co-led projects. These projects are advancing understanding of traditional and western knowledge and work together to research better water governance, water and food security, sediment restoration, water security, climate change, and water-related human and ecosystem health in Indigenous communities. To learn more about Indigenization and co-creation in research visit GWF Indigenization & Co-Creation of Research.
EDI Policy: GWF Core Institutions
GWF's core partner institutions have committed institutional support for equity, diversity, and inclusion (EDI) by implementing strategy, policy, and programs (e.g., EDI and harassment policies, accessibility services and more). Students, faculty, and staff must be familiar with EDI policies and practices at their home institution and partner institutions, where they study and conduct research. EDI policies at GWF partners are available at the University of Saskatchewan, the University of Waterloo, McMaster University, and Wilfrid Laurier for reference.
GWF EDI Protocols
2021-2023 EDI Strategy
The Global Water Futures Equity, Diversity and Inclusion Strategy 2021-2023 is now available for download. Thank you to everyone for sharing your wisdom and experience during the EDI strategy consultation process - your thoughtful comments, suggestions, and reflections have contributed to this living document that will inform GWF's approach to EDI.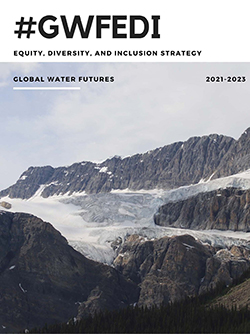 GWF Interrupting Bias training
In 2021 GWF launched the organization's first EDI Strategy. One of the strategy's objectives is to support students, faculty, and staff to become more aware of bias and gain the skills necessary to prevent and interrupt discrimination and harassment. Although we do not have precise data for water research in Canada, a 2018 study in the US found that 58% of women in Science, Engineering and Medicine have experienced some form of sexual violence at work. In Canada, 39% of women and 35% of men aged 15 years and older or more than 11 million people, have reported experiencing at least one physical or sexual assault since age 15. In addition, over 50% of adults in Canada have witnessed inappropriate sexual comments at work. Other forms of harassment, including microaggressions, are also prevalent in higher education and disproportionately impact Indigenous people, racialized people, and people who identify as LGBTQ2+. Therefore, this training is an essential part of ensuring GWF offers a safe and welcoming work environment where everyone has the right to belong.
EDI and Grant Writing
"Achieving results in EDI work requires us to question accept norms and take new actions informed by evidence-based research."
-Prof. Corinne Schuster-Wallace, EDI Champion
Considering equity, diversity, and inclusion at every stage of the grant process is essential to research excellence and innovation. EDI begins with assembling a diverse research team, removing barriers to hiring talented HQP from all backgrounds, inclusive research design and methodology, stakeholder engagement, and knowledge mobilization. These resources are a starting point to craft a strong EDI research statements and implementing EDI in research:
News & Events
CFREF Self-Identification Updates
As part of the annual progress reporting requirements, all new researchers, faculty, staff, and students who joined the CFREF team between April 2020 and March 2021 must complete a Self-Identification Form and submit it directly to TIPS. A "prefer not to answer at this time" option is available for each question. Individuals are encouraged to self-identify as part of all the four-designated groups that apply to them. In addition, we encourage each participant to complete the Participant Survey. Existing employees are also welcomed to update their Self-ID profile following the same link. Self-Identification information is confidential and helps to inform EDI in GWF #GWFEDI.
Instructions to complete Self-ID are available here (page 9). You may also read the letter that further explains the need for participant information and Self-ID.
CFREF Participant Information and Self-Identification Forms 2020-2021
Celebrate diversity, embrace equity and cultivate inclusion
Dr. Saman Razavi, Associate Professor in the School of Environment and Sustainability, has shared his experiences as a researcher and immigrant to Canada in a recent article in the December 2020 issue of University Affairs. In Celebrate diversity, embrace equity and cultivate inclusion, Dr. Razavi reflects on the idea that while diversity is relatively easy to quantify, equity and inclusion require intention and action. In sharing his perspective, Saman hopes to inspire others to share their unique experiences to create a positive dialogue about EDI in academia and society.