Changing Cold Regions Network (CCRN)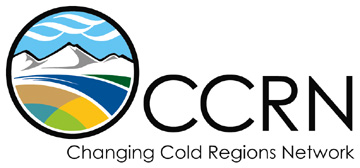 The Changing Cold Regions Network (CCRN) is a collaborative research network that studies the rapid environmental change in the cold interior of western Canada. CCRN is developing the tools and scientific understanding to manage this change and brings together the unique expertise of a team of over 50 university and government scientists, including 36 Canadian scientists representing four government agencies and eight universities, as well as 15 international scientists.  The network is funded for five years (2013-18) through the Climate Change and Atmospheric Research Initiative of NSERC.
CCRN's objectives are to integrate existing and new sources of data with improved predictive and observational tools to understand, diagnose and predict interactions amongst the cryospheric, ecological, hydrological, and climatic components of the changing Earth system at multiple scales, with a geographic focus on Western Canada's rapidly changing cold interior.
Through its members, the network operates Water, Ecosystem, Cryosphere and Climate (WECC) observatories distributed across the interior of western Canada. These observatories are located throughout the Saskatchewan and Mackenzie river basins.
CCRN is one of the ten Regional Hydroclimate Programmes of the World Climate Research Programme's (WCRP) Global Energy and Water Exchanges (GEWEX) project – the only current one in North America.   
For more information, visit the network's website.
International Network for Alpine Research Catchment Hydrology (INARCH)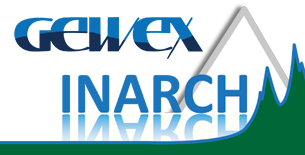 John Pomeroy, Canada Research Chair in Water Resources and climate change, leads the International Network for Alpine Research Catchment Hydrology (INARCH) project. INARCH is a Global Hydroclimate Programme (GHP) cross-cut project of WCRP's GEWEX and a recognized contribution to the world water security initiative of UNESCO's International Hydrological Programme.
The overall objectives of INARCH are to understand alpine cold region hydrological processes better, improve their prediction and find consistent measurement strategies. To achieve these objectives, it is necessary to develop transferable and validated model schemes of different complexity that can support research in data-sparse mountain headwaters where climate change impacts on water resources are anticipated to be very severe. INARCH has 25 intensely instrumented high-mountain research catchments in North and South America, Europe and Asia that form a vast outdoor intercomparison laboratory.
By combining the expertise of over 40 principal collaborators from 17 countries, INARCH addresses important issues such as snow, glacier and permafrost hydrology; representation of snow and ice in hydrological land surface models, model downscaling in complex terrain, and improving the prediction of climate change impacts in the mountain headwaters that support water resources for half the world's population. INARCH is publishing global mountain research catchment datasets in a special issue of Earth System Science Data.
WCRP and GEWEX
GWF builds upon significant collaborative linkages to the GEWEX project through hydrological and climate research in western Canada, including the Mackenzie GEWEX Study (MAGS) and the Changing Cold Regions Network (CCRN), which were Regional Hydroclimate Projects (RHPs).  A draft proposal has been developed for an expanded RHP for Canada that mirrors the GWF Program and will be submitted to GEWEX soon.
Key science questions to be addressed by the GWF Canadian RHP include:    
How will extreme atmospheric events be translated by the hydrological system into hydrological extremes?
How will hydrological storage in lakes, managed reservoirs, glaciers, permafrost, groundwater and wetlands interact with a changing climate and shifting terrestrial ecosystems to create new hydrological regimes?
How can humans better manage, mitigate and adapt to this change and conserve ecosystems through water and land management, prediction, and governance?
The GWF Canadian RHP will further complement existing and proposed initiatives, such as the "Water for the Foodbaskets of the World" in the U.S. Great Plains and California's central valley, and in conjunction with this initiative, GWF will provide unparalleled scientific focus through the North American Great Plains and most of North America's agricultural and food producing regions.  Further, GWF members are leading or involved with several GHP cross-cut initiatives including the International Network for Alpine Research Catchment Hydrology (INARCH), Cold/Shoulder Season Precipitation Near 0°C project, and Human Regulation of the Water Cycle project. 
Future Earth: Sustainable Water Futures Programme

The Sustainable Water Future Programme (Water Future) is a global research programme established under Future Earth and aims to provide the knowledge and support to accelerate transformations to a 'more sustainable water world'.
Recently, the Global Institute for Water Security (GIWS) has developed a memorandum of understanding to establish a collaborative Partnership, founded on the principles of collaboration and cooperation, to provide expertise and resources for undertaking coordinated and strategic research activities that will underpin the sustainable management and use of water in this time of significant global environmental change.
In particular, GWF has developed a collaborative research group called 'Climate Impacts on Global Mountain Water Security' in conjunction with the Future Earth Sustainable Water Futures Programme to address the issues of climate and cryospheric change, and the associated impacts on hydrological functioning and water resources within and downstream of mountain regions globally. The group has connections to the International Network of Alpine Research Catchment Hydrology (INARCH), a project situated within the World Climate Research Programme's Global Energy and Water Exchanges (GEWEX) Project. Mountain Water Futures (MWF) project from the Global Water Futures (GWF) programme supports the group. The research will focus on addressing how to develop a global and scientific approach to understand better, predict and manage alpine water resources in the face of dramatically increasing risk. Consequently, the GIWS and GWF programs are now considered as the Canadian hub and a secretariat to support Canadian engagement with Water Futures to build links to the international community and Future Earth and publicise the activities and achievements of the program.
UNESCO – IHP
The IHP is UNESCO's international scientific cooperative program in water research, water resource management, water education, and capacity- building, and the only broadly based science program of the UN system in this area.  GWF will contribute to the IHP and the UN sustainable development goals through its Canadian contribution to the UN Water Action Decade and through a number of internationally focused projects.  In particular, the INARCH project, the GWF core modelling, and the Mountain Water Futures (
MWF
) project of GWF and associated projects will provide leadership on initiatives in the South American Andes, the Hindu Kush Himalayan region and Tibetan Plateau, and potentially other high mountain regions such as East Africa and the Atlas Mountains.
Approach and Mechanisms:
The Canadian National Committee for IHP (CNC-IHP) has been reactivated effective March 2018 and GWF is an integral part of this committee. The CNC-IHP provided a comprehensive report on many activities/initiatives undertaken by the Canadian hydrological community (including GWF) that contribute to the framework of the IHP.
Meetings have been held to design UNESCO IHP's water security and climate change strategy at a workshop in Paris in October 2017.  Discussions were held on how GWF could contribute to UNESCO IHP priority areas in the Americas and high mountain regions in Asia.
Formal Linkage of GWF and INARCH with the prospective ANDEX RHP of GEWEX, focusing on the Andes Mountain region.
GWF and INARCH are pursuing a focus on climate impacts to high mountain environments and river systems globally, with plans to model and explore climate sensitivity scenarios and implications on water resources across 25 mountain basins globally, representing every continent but Antarctica.
UN Water Action Decade

GWF will work with the United Nations University - Institute for Water, Environment and Health (UNU-INWEH) to develop a strategy and action plan for GWF to advance its outreach and communication of research outcomes through the coming new decade of action on the global water crisis. GWF will form a Canadian Contribution to this Decade with UNU-INWEH and will address all of the UN sustainable development goals.
Approach and Mechanisms:
Leveraging funding to GWF projects, and with help from the GWF secretariat and our ability to support workshops from our international budget in contribution to this initiative, we will host workshops in Canada to bring the projects together to address the UN sustainable development goals. 
We intend to leverage substantial support from the federal government as water becomes more prominent in Global Affairs Canada.
PAN 3rd Pole
The Third Pole covers 5 million km2 in area with an elevation higher than 4000m by average
With ever-faster climate change, ever-stronger human activities and special processes in the region mixing, the future of Pan Third Pole region is full of uncertainties. 
Formal linkage of GWF and INARCH with the Pan-Third Pole Environment Program, which is focused on the high mountains of central and eastern Asia and which addresses climate and Earth system changes and their impacts to the social and economic development of China, India, Nepal, Tajikistan, Pakistan, Afghanistan, Bhutan, and Bangladesh.
A collaborative exchange program has been discussed between GWF and pan-TPE and Chinese Academy of Sciences.