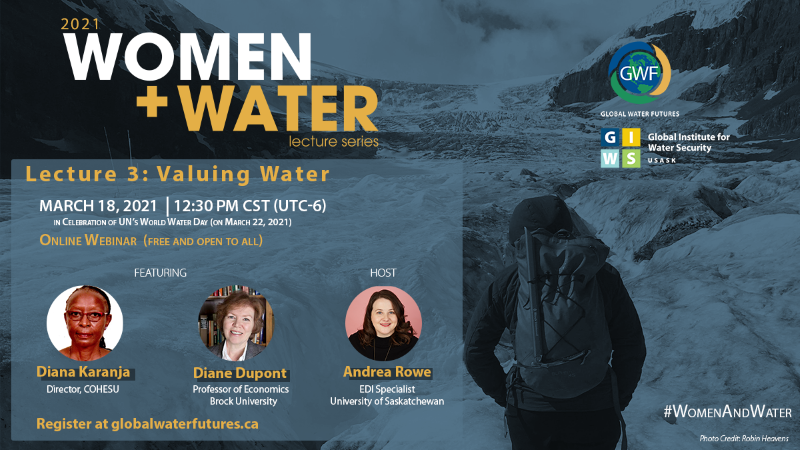 Biographies: 
Diane Dupont
Diane P. Dupont is a Professor of Economics at Brock University, where she has held a Chancellors Chair for Research Excellence and was awarded the Brock University Distinguished Research and Creative Activity Award. She is also a member of Brock's Environmental Sustainability Research Centre and was the Scientific Director of the Water Economics, Policy, and Governance Network, a SSHRC Partnership Grant, from 2016-2020. Her editorial positions have been with Water Resources Research, Water Resources & Economics, Canadian Journal of Water Resources, Society and Natural Resources, Australian Journal of Agricultural and Resource Economics, Water Economics and Policy, and Water Resources and Economics. She works in the fields of environmental and natural resource economics, particularly where they intersect in the area of non-market valuation. Her research program concentrates upon examining ways to encourage more efficient and sustainable use of water resources both on the supply and demand side. On the supply side, she looks at factors that help to identify which water utilities operate most efficiently and sustainably. On the demand side, she has undertaken a number of non-market valuation studies to determine the value of good quality water as it relates to individuals' perceptions of the health effects of tap water, as well as their willingness to pay for water-based recreational activities.
Diana Karanja
­­­­Dr. Karanja is a widely published medical researcher with experience of over 30 years working with Kenya Medical Research Institute, while collaborating with International Universities in Canada, Japan, Europe and United States, as well as global Institutions including the World Health Organization and the United Nations.  She is the Director of a National Non-Governmental Organization in Kenya; whose focus is on community health and wellbeing.  She is extremely interested in youth mentorship. 
Andrea Rowe
Dr. Andrea Rowe (PhD) joined the Global Institute for Water Security (GIWS) and Global Water Futures (GWF) as an Equity, Diversity, and Inclusion Specialist in September of 2020. Andrea is one of the original Co-Founders and Chief Research Officers at Feminuity, an evidence-based research-driven firm specializing in EDI in the tech sector. Andrea has a Ph.D. in Comparative Public Policy from McMaster University, where she researched gender equality in national innovation systems in Canada, Sweden, and the OECD in Paris, France.
Event Details
When:

Time:

12:30 PM - 01:30 PM CST

Location:

Zoom Webinar