Services for Research Teams
The KM Core Team has been assembled to provide oversight, advice, and support to GWF projects for their knowledge mobilization initiatives and can provide various types of services including assistance with:
Planning your project or initiative to ensure mechanisms for two-way communication and participation are in place with your partners

Identifying different strategies to exchange knowledge and disseminate findings within your research team, with partners, and broader audiences

Facilitating events, committees, and meetings that bring together your research team, partners and collaborators

Connecting you with synergistic opportunities with other GWF research projects and potential new practitioners, water managers and decision-makers that can use your research

Developing decision-support products that are informed by users and designed with audiences in mind (i.e., design and delivery of virtual decision labs, participatory modelling, briefs, newsletters, etc.)

Providing KM training for capacity building within your team, including students and young professionals

Tracking and evaluating progress of your knowledge mobilization activities

Documenting and sharing the successes of your research impact
Research Cycle of Best Practices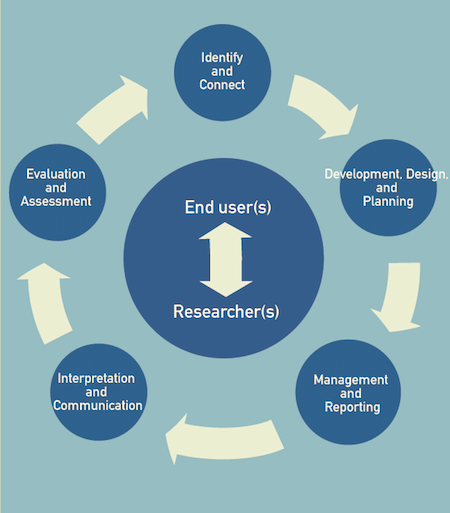 Knowledge mobilization activities are necessary throughout the research cycle, not only at the start when identifying interested end users, or at the end when delivering research products to those end users. To assist researchers in identifying key KM considerations and actions throughout the entire research process, the KM Core Team has developed step-wise flowcharts following the research cycle.
KM Toolkit
The Knowledge Mobilization Resource Toolkit provides an easy-to-understand approach to the common methods, tools, and techniques often used in Knowledge Management (KM). These tools explain KM concepts and help faculty, young professionals and staff associated with Global Water Futures undertake KM within research projects. This toolkit is designed to support you in finding, using, creating, managing and sharing knowledge to support improvement in policies, practices and plans by:
Introducing the value of KM and what support is available from the GWF KM Team

Providing a portfolio of KM tools, techniques and resources you can easily apply in your everyday work

Providing approaches to research that support KM