Services for Research Teams
The KM Core Team has been assembled to provide oversight, advice, and support to GWF projects for their knowledge mobilization initiatives and can provide various types of services including assistance with:
Planning your project or initiative to ensure mechanisms for two-way communication and participation are in place with your partners

Identifying different strategies to exchange knowledge and disseminate findings within your research team, with partners, and broader audiences

Facilitating events, committees, and meetings that bring together your research team, partners and collaborators

Connecting you with synergistic opportunities with other GWF research projects and potential new practitioners, water managers and decision-makers that can use your research

Developing decision-support products that are informed by users and designed with audiences in mind (i.e., design and delivery of virtual decision labs, participatory modelling, briefs, newsletters, etc.)

Providing KM training for capacity building within your team, including students and young professionals

Tracking and evaluating progress of your knowledge mobilization activities

Sharing the successes of your research impact
 Our knowledge mobilization specialists based at each partner institution are available to discuss and assist in your knowledge mobilization needs.
Research Cycle of Best Practices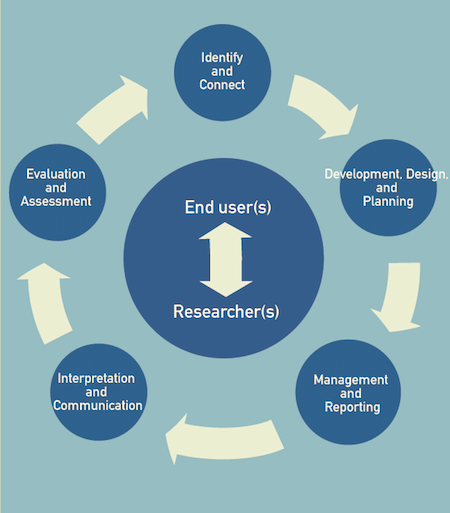 Knowledge mobilization activities are necessary throughout the research cycle, not only at the start when identifying interested end users, or at the end when delivering research products to those end users. To assist researchers in identifying key KM considerations and actions throughout the entire research process, the KM Core Team has developed step-wise flowcharts following the research cycle.
Resources for Projects
We are continually developing KM process and product templates that can be shared and adapted for project use. Let us know if you would like to see something specific!
From the Community of Practice
The Canadian Water Network: http://www.cwn-rce.ca/about-us/knowledge-mobilization/
Integration and Implementation Insights: https://i2insights.org/2018/04/03/co-producing-transformative-knowledge/
Climate Outreach, Communications Handbook for IPCC Scientists: https://climateoutreach.org/resources/ipcc-communications-handbook/
From the Science of Team Science 
Bielak, Alex, Andrew Campbell, Shealagh Pope, Karl Schaefer, and Louise Shaxson. "From Science Communication to Knowledge Brokering: the Shift from 'Science Push' to 'Policy Pull'." In Communicating Science in Social Contexts: New models, new practices, edited by Donghong Cheng, Michel Claessens, Toss Gascoigne, Jenni Metcalfe, Bernard Schiele, and Shunke Shi, 201-226. Dordecht: Springer, 2008. 
Cash, David, William Clark, Frank Alcock, Nancy Dickson, Noelle Eckley and Jill Jager. "Salience, Credibility, Legitimacy and Boundaries: Linking Research, Assessment and Decision Making."  IDEAS Working Paper Series from RePEc (2002). http://cyber.usask.ca/login?url=https://search.proquest.com/docview/1698227110?accountid=14739 
Mâsse, Louise, Richard Moser, Daniel Stokols, Brandie Taylor, Stephen Marcus, Glen Morgan, Kara Hall, Robert Croyle, and William Trochim. "Measuring Collaboration and Transdisciplinary Integration in Team Science." American Journal of Preventive Medicine 35, no. 2 (2008): S151-S160. https://doi.org/10.1016/j.amepre.2008.05.020
McKean, Matthew. Beyond Citations: Knowledge Mobilization, Research Impact, and the Changing Nature of Academic Work. The Conference Board of Canada, 2016. https://www.conferenceboard.ca/temp/369854f6-cb67-408e-ba22-ff4d3a5d9ab1/8314_BeyondCitations_BR.pdf
Schaefer, Karl and Alex Bielak. "Linking Water Science to Policy: Results from a Series of National Workshops on Water." Environmental Monitoring and Assessment 113, no. 1-3 (2006): 431-442. DOI: 10.1007/s10661-005-9093-5
Shaxson, Louise, Alex Bielak, Ibrahim Ahmed, Derek Brien, Bernadette Conant, Catherine Fisher, Elin Gwyn, Laurens Klerkx, Anne Middleton, Sarah Morton, Laxmi Pant, and David Phipps. Expanding our understanding of K*(KT, KE, KTT, KMb, KB, KM, etc.) A concept paper emerging from the K* conference held in Hamilton, Ontario, Canada, April 2012. Hamilton, ON: UNUINWEH, 2012. http://inweh.unu.edu/wp-content/uploads/2015/05/KStar_ConceptPaperSummary_Final_SinglePaged_Web.pdf
Wall, Tamara, Alison Meadow and Alexandra Horganic. "Developing Evaluation Indicators to Improve the Process of Coproducing Usable Climate Science." Weather, Climate and Society 9, no.1 (2017): 95-107. https://journals.ametsoc.org/doi/10.1175/WCAS-D-16-0008.1