Investigators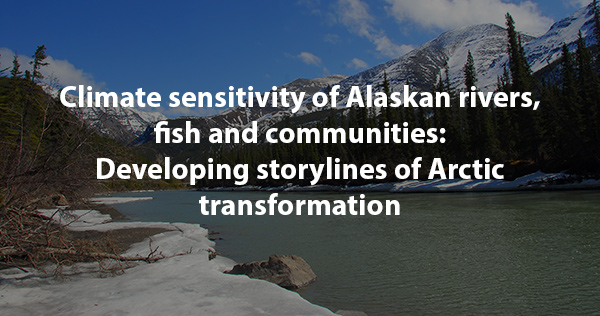 Principal Investigator:
Keith Musselman, Ph.D.
Research Associate
INSTAAR
University of Colorado Boulder


Additional Investigators:
J. Koch (USGS)
N. Herman-Mercer (USGS)
Hamman (NCAR)
E. Mutter (YRITWC)
A. Newman
R. Toohey (USGS)
Molotch (CU)
K. Cozzetto (NAU)
K. Lindenschmidt (USask)
Swanson (Waterloo)
M. Gooseff (CU)
Project description
Climate change is transforming Arctic hydrology. Rivers that rarely flowed in winter are rising in response to unprecedented winter melt events. Geochemical river loads are increasing in response to enhanced mineral weathering as permafrost degrades and groundwater mobilizes (Toohey et al., 2016). And climate warming is increasing pan- Arctic river temperatures (Lammers et al. 2007; Yang et al. 2014; Park et al., 2017).
Many of these transforming river systems are relied upon by native communities for subsistence fishing and transportation. For villages without road access, rivers are used to ship fuel and supplies by barge during ice-free seasons and by river-ice roads in winter. The socioeconomic impacts of river transformation on river-dependent communities, their fisheries, and winter travel corridors are deeply uncertain. There is now great opportunity to close these critical knowledge gaps. Highly motivated community-led monitoring and participatory mapping efforts and advances in physically based climate, hydrologic, and river ice modeling provide new opportunities to address climate change impacts on Arctic and boreal rivers, fish and communities.
The goal of this project is to strengthen understanding of terrestrial hydrologic change in the Arctic and the potential impacts on rivers, fish and dependent communities. Strong collaboration with tribal watershed councils and citizen science networks will guide the science and facilitate monitoring and modeling. We will advance promising model techniques to assess how climate change has and will continue to alter groundwater, river temperatures, river ice, and fish habitat of high value to northern native communities.