Warrick Baijius, a PhD candidate in the Department of Geography and Planning in USask's College of Arts and Science, wrote the report Comprehending Swale Ecosystems: Research Synthesis and Analysis. The project aimed to identify current gaps in knowledge about the Northeast Swale and adjacent Small Swale by reviewing existing research on the Swales and surrounding areas in northeast Saskatoon.
"There are many layers to the importance and significance of the Swales, just as there would be with many other natural areas," Baijius said.
"Considering how much native prairie grassland we've already lost within the prairies and globally, to have 2,800 hectares of an endangered grassland ecosystem right next to the city is incredible—and that doesn't even include the Small Swale, which is also rich in wildlife. It's also a big responsibility to care for the rare and endangered plants and animals that rely on, and sustain, the Swale ecosystem."
The Northeast Swale is a channel scar that is about 26 kilometres long and covers 2,800 hectares, extending north from Peturrson's Ravine in Saskatoon to the Rural Municipality of Aberdeen. It is an ecologically diverse network of rare native prairie, riparian areas and wetlands that is home to more than 200 plant species and more than 100 bird species, as well as mammals, amphibians, reptiles and insects. Some of the rare, endangered or culturally significant species include Sharp-tailed Grouse, Northern Leopard Frog, American Badger, Crowfoot Violet and Western Red Lily.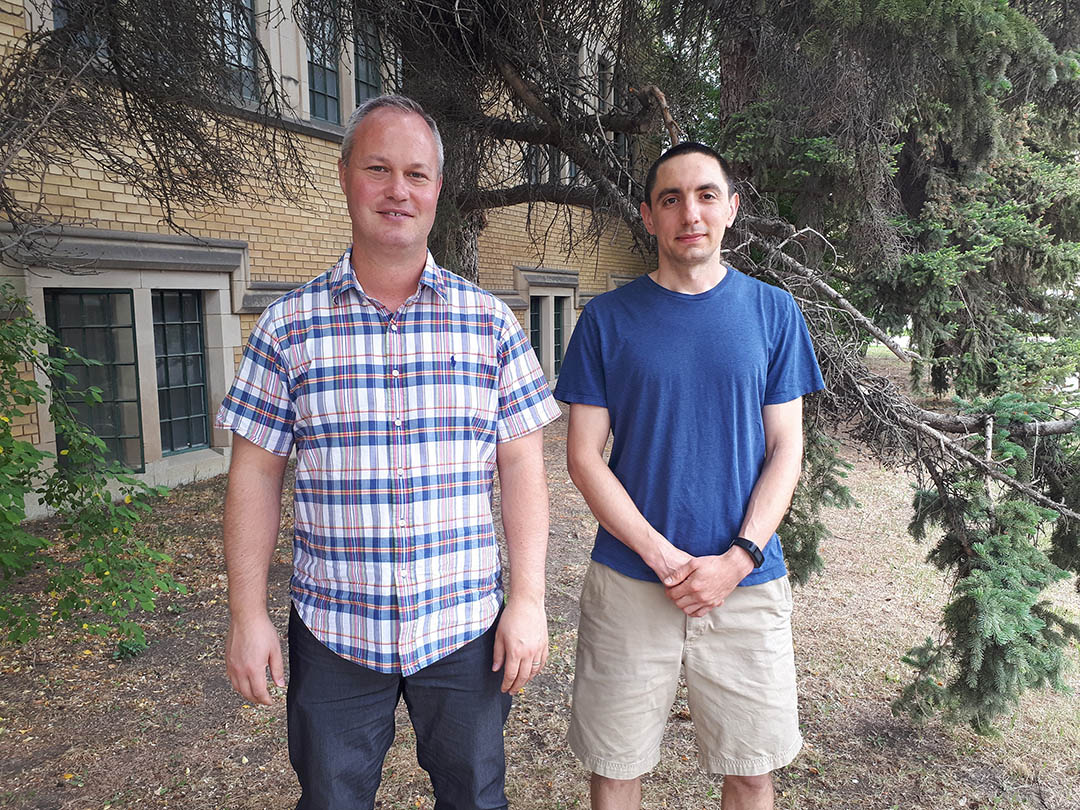 The Swales are under threat as planned neighbourhoods and roadways are built in and around Saskatoon, said geography and planning professor Dr. Ryan Walker, who supervised Baijius' project.
"With functioning natural landscapes like this, if you interfere too much with the natural relationships between flora and fauna, it stops functioning," said Walker.
"We have to decide what we want in that space: a functioning native prairie landscape with its biodiversity and wetlands intact, or some more roads and buildings. It's a decision the public needs to make. But you can't have both. Nature needs space."
The new Comprehending Swale Ecosystems report makes 13 recommendations related to the Swales' local and regional ecology, prairie water cycles, projected impacts of further roadway development, and planning and governance. One recommendation is that the City of Saskatoon and Province of Saskatchewan work with the Meewasin Valley Authority to find ways to incorporate the Greater Swale into a broader conservation project, including adequate buffering and protection of wetlands in agricultural fields, and the generous selection and restoration of disturbed areas adjacent to the Swales.
"If the Swales are to be managed as sustainable ecosystems, then the City must curb development in and around natural areas, and the Province must limit incursions into or through those natural areas," the report states. "Together with Meewasin, the public, and interested non-government organizations, strong protections and generous space must be given to the Swales. A rigorous monitoring and experimentation program would support conservation and restoration."
The Comprehending Swales Ecosystemsproject was conducted at the invitation of the Swale Research Partnership, which is housed at USask and chaired by the Office of the Vice-President Research. The report includes a media scan of 45 articles addressing the topic of the Swales; a document review summarizing key findings from 84 documents addressing the Swales over decades; and research synthesis identifying key findings spanning the 84 documents reviewed, and highlighting critical knowledge gaps related to water, natural area screening, local and regional ecology, and planning and governance.
Funding for the project was provided by the Global Water Futures program. Guidance was provided by an advisory committee that included representatives from the City of Saskatoon, the Meewasin Valley Authority, USask, the Global Water Futures program and a local stewardship group known as the Swale Watchers.
"The City has been looking at the Swale through coarse assessments, conducted incrementally, at different times in the year, and in little bits at a time. This has provided a poor understanding of the Swale ecosystem," said Baijius.
"There are also human connections to the Swale that remain unexamined and undervalued. This is a place for birders, students, neighbours, naturalists and everyone else to connect with an ancient piece of the land, as well as to each other. The prairie ecosystem that remains is also significant in terms of heritage: it was, and is, home for Northern Plains Indigenous peoples, with its grasses once supporting massive herds of bison. It is also home to settlers, whose ancestors built their livelihoods on the rich prairie soils."
Walker noted that native temperate grasslands are the most endangered ecosystem on the planet, with less than 10 per cent remaining and roughly half of that amount under protection. Saskatoon's Swales represent this endangered prairie landscape in Saskatchewan.
"The Northeast and Small Swales here at our city's doorstep have remained largely intact for over 10,000 years," said Walker.
"Given our prairie identity in Saskatchewan, and given that we're the largest city-region in the province, if we can't bring ourselves to protect this significant native prairie landscape right here in our jurisdiction, then who in the world will protect it? We can't keep hoping that someone else, somewhere else, is going to keep our natural landscapes intact in some measurable portion. We have to act locally and value what we have, and do our part in this urbanizing world around us to live responsibly."
This story was originally published on the USask College of Arts & Science news site - click here for more.