Hosted by Wilfrid Laurier University at the Balsillie School of International Affairs, Waterloo, ON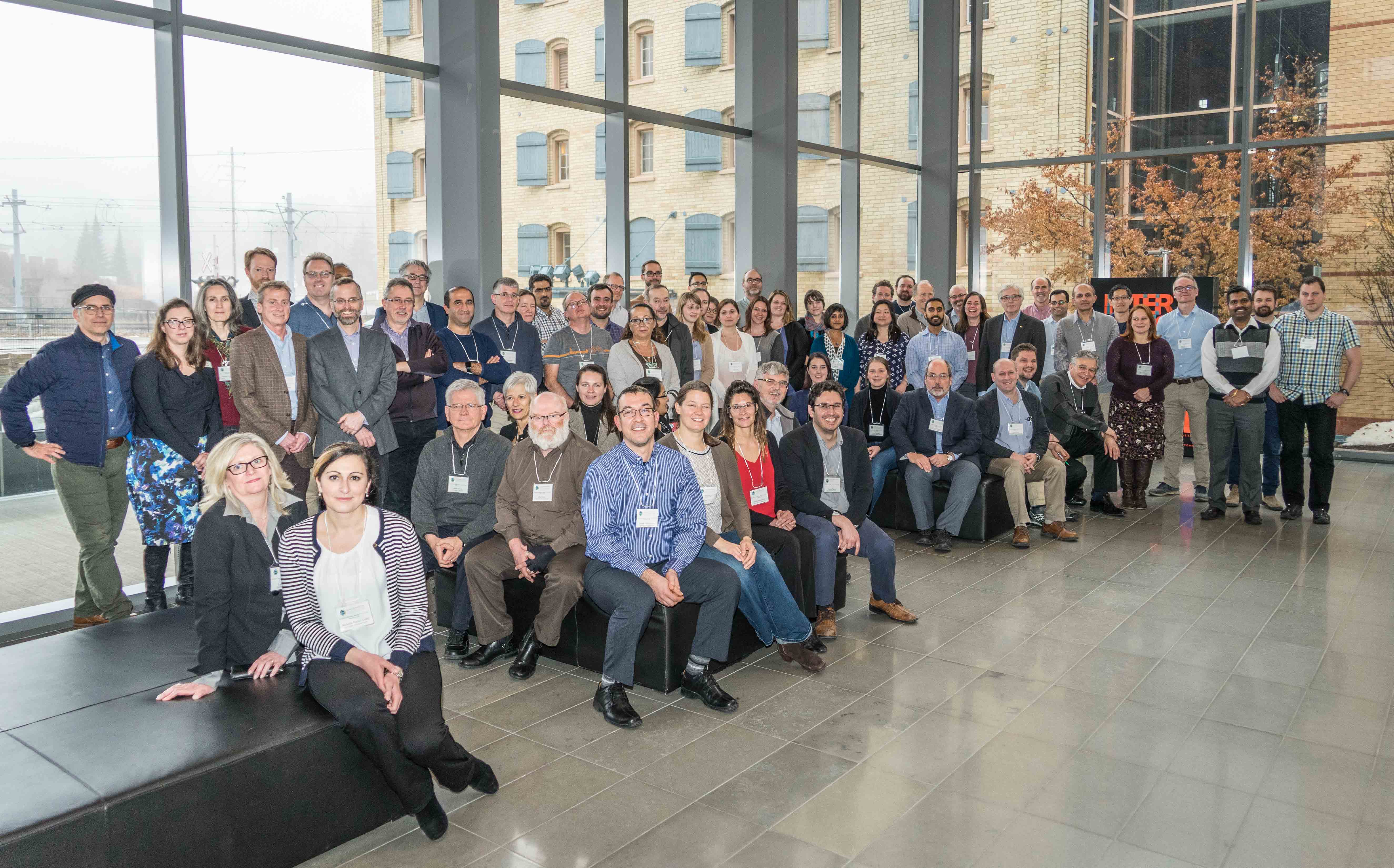 Our progress so far: 
21 transformative research, big data and decision support tool projects approved for Pillars 1 & 2

Atmospheric science, Hydrology, Water Quality, Water Management & Governance, Health
Sensors, crowdsourcing, computing

12 user-question led projects funded for Pillar 3

Regional – e.g. Great Lakes, North, Prairies, Mountains, Boreal
Sectoral – e.g. Agriculture, Mining
Topical – e.g. First Nations co-development, modelling & prediction, algae, climate extremes

6 Core Teams Established

32 core modellers
9 computer scientists
20 observatory technicians (Yukon, NWT, Rockies, Saskatchewan, Ontario)
4 data managers
3 knowledge mobilisation specialists
9 communications specialists

Observatories Staffed, Predictions Started

Flood forecasting system implemented for Yukon Territory
Mountain snow forecasting system for Bow River headwaters in Canadian Rockies
Smart Water Systems Laboratory (Western Economic Diversification, CFI)

New offices/labs in Saskatoon, Saskatchewan, Yellowknife, NWT, Whitehorse, Yukon and Canmore, Alberta
GWF Young Professionals Strategy
GWF International Strategy

WCRP-GEWEX, UNESCO-IHP, Future Earth, UN Water Decade, MESH in India,
International Exchanges (China, Iran, Spain, France, Germany)

Indigenous Communities Water Strategy -
Source water protection, Climate change impacts, Upstream industrial water impacts, Water rights, Governance
Inception Statement:
GWF has identified a Grand Challenge: how can we best prepare for and manage water futures in the face of dramatically increasing risks from a changing climate, developing economy and changing society?
GWF has thus initiated 33 projects addressing critical water research needs, big data and decision support tool development, sensors and user-questions, and 6 core teams addressing observations, data management, computer model-based prediction, communications and knowledge delivery. 
These projects and teams have exchanged best practices and have begun their research, observations, modelling and knowledge mobilisation activities and are engaging with over 170 partners/users whilst training over 440 HQP. 
GWF is engaging with all levels of government across Canada, with special interest in engagement with Indigenous communities and international UN-based science organisations. 
GWF recognises the continued need to:
design models to predict multiple outcomes from coupled climate and other impacts on water for non-traditional objectives,
enhance water, climate and terrestrial basin observations using new sensors and remote sensing,
further define ecological flow needs, basin-scale impacts and advise/inform the regulatory framework
consider a continuum of dynamic agricultural, urban and forestry land use interactions with changing water, climate, cultural and aquatic systems
appreciate that water quality impacts on and by urban and rural communities are profoundly important to water and health, and need decision-making based on enhanced observation and supported by the outcomes of integrated models.
engage effectively and appropriately with industry to address their needs for data, science information, model outputs, designs and assessment procedures, whilst noting differing interests and confidentiality issues,
examine the ubiquitous contaminant legacy, site mitigation, water needs and long-term catchment-functioning rehabilitation issues from mining,
develop innovative citizen science and crowdsourcing initiatives, including co-developed systems, that engage those who may generate water information, can be assimilated into enhanced observations and prediction systems and provide positive feedback to data originators,
share tools and develop best practices for knowledge mobilisation and communications from projects and core teams in a transdisciplinary framework to key audiences regionally, nationally and internationally that can sustain and inform GWF and benefit Canada and stakeholders
engage fully with Indigenous communities' knowledge, perspectives and needs – for all aspects of GWF.  Knowledge exchange with Indigenous communities can take multiple forms and innovation in co-creation of knowledge can be a fundamental legacy.
work at the science-policy interface, inform and propose innovations in policy instruments and governance, including flood plain risk management as a first priority and including and supporting Indigenous communities in decision making.
 GWF continues to encourage leveraging, user-engagement and collaboration as ways to expand its science and interactions with users and stakeholders.  It will work to ensure policy relevant science is advanced, engaged, made available and interpreted to inform decision making and decision support.
A summary of the meeting and the rapporteur reports from the cafe discussions is available here.
Agenda and presentations
The meeting took place over two days at the Balsillie School of International Affairs, Waterloo, ON.
GWF Café 
Discussion on GWF International Linkages and Strategy - John Pomeroy 
Information on GWF Annual Science Meeting - John Pomeroy